Celine Dion Tour Using Wireless Control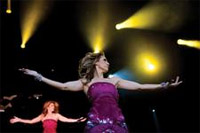 SACRAMENTO, CA — Céline Dion's Taking Chances tour has been a complex undertaking, with variations in the set and song list for English-speaking and French-speaking audiences, and a third variation for smaller venues. The 360-degree set also has 20 LED screens, one of which orbits the stage, plus conveyor belts and lifts. And the yearlong tour visits five continents, 24 countries and 84 cities, with a total of 120 performances. But the tour's director, Jamie King, is no stranger to complexity, with Madonna's Confessions Tour, Christina Aguilera's Back to Basics Tour and tours for Kanye West and the Spice Girls on his resume. The touring system is provided by Montreal, Canada-based Solotech, which is also the provider for various Cirque du Soleil productions and Dion's resident show. And the lighting designer is Yves "Lapin" Aucoin, who had also served as LD for Dion's A New Day at Caesars Palace in Las Vegas.
Along with an experienced crew, the production is keeping its hard-wiring requirements to a minimum by choosing Wireless Solution Sweden's W-DMX as a control solution. Seven W-DMXTM BlackBox R-512 Receivers and 2 W-DMX BlackBox S-1 Transmitters, plus eight B-1000 Outdoor Boosters and 5dB antennas are used to distribute the signal.
"For the W-DMX we have a very simple setup, which is what I like from Wireless Solution — it's very simple to use," said David Bergeron, Solotech Lighting Project Manager. "We have eight pods in the audience and we take the power for these units wherever we find it. Sometimes it is quite far away from dimmer city and we don't want to run 1200 feet of DMX, so we have a transmitter in front with a BlackBox B-1000 Outdoor Booster 1000mW and receiver with the 5db antenna, so we can cover a large range in the stadium. We also have props with lights in it that need to work wirelessly so we have 8 RC4 wireless dimmers, which work with a Wireless Solution pico receiver.
"I did Cirque du Soleil's Delirium as head electric with several first versions of the W-DMX system and was extremely satisfied with the way it worked, but the second version is just perfect," Bergeron added. "It saved us a lot of cable and time."
"Céline's fans know they get a tremendous show," said FOH engineer, Francois "Frankie" Desjardins. "She always delivers her best, and she demands the best from us, and from her equipment. That's what we deliver."
For more information, please visit www.wirelessdmx.com.
Leave a Comment: