Chauvet Announces Staff Appointments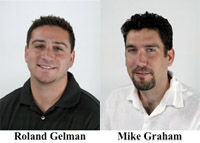 HOLLYWOOD, FL — Chauvet recently named Roland Gelman as product marketing manager and appointed Mike Graham sales support manager. Gelman previously worked as product manager for Black & Decker's lighting portfolio, which includes LED work lights, rechargeable spotlights and lanterns. Graham held several positions at Coemar USA including customer and technical services manager and regional sales manager. In his capacity at Chauvet, Gelman works with both the product and marketing departments. "He brings together our technical minds and creative minds to ensure a coherent product marketing strategy, one that reflects the company's focus on value, innovation and performance," said Albert Chauvet, CEO.
Gelman has a strong interest in product development, but occasionally customer feedback causes Gelman to switch from a product mindset to a marketing one. He then works with the marketing creative team on changes in product presentation rather than on product development.
In his position as sales support manager, Graham is responsible for resolving issues that arise with customers. "I'm not a salesman, but the representatives know I am here for them, with their best interests at heart," he said.
Graham debugged the lighting for new theaters at two different colleges and has also held customer and technical services positions with Coemar USA and Barbizon Miami. In addition, he has experience in other facets of the lighting industry such as operating and maintaining lighting for cruise ships.
For more information, please visit www.chauvetlighting.com.
Leave a Comment: