Chauvet COLORado Gear Goes from Rock to Mariachi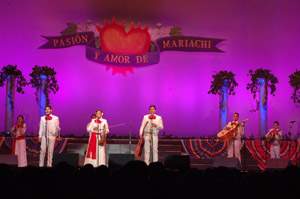 TUCSON, ARIZ — Total Lighting Support used 24 Chauvet COLORado 6s lined up end to end for wash lighting at 27th annual International Mariachi Conference, which drew professional Mariachi performers and youth groups from the U.S. and Mexico. "With the COLORado 6s, we were able to drop the power usage from a 200amp, 3-phase service to 3-20 amp circuits," said Plummer. "And the time we saved — we had none of the stage pin cable or cutting and gelling all those lights — was substantial."
Along with festive hues from the COLORado 6s, Plummer also chose Chauvet COLORado 1s to color wash Tuscan columns and rigged 150 Chauvet LED Par 64 cans on double truss for stage lighting.
The conference consists of two components — an educational three-day workshop for up to 1,000 youth from all over the U.S. and concerts by professional Mariachi musicians, including pop-rock icon Linda Ronstadt. Originally from Tucson, she also sings Mariachi.
Ronstadt, who has been associated with the conference since her 1987 release of her Grammy Award-winning Mariachi album, performed five songs. Other performers include Eugenia Leon, who has been performing Mariachi for the past 30 years, and groups including Mariachi Vargas de Tecalitlan and Mariachi Los Camperos de Nati Cano.
This year, 860 students participated in the workshop, which is taught by some of the leading musicians from the U.S. and Mexico. The workshop culminated with musical presentations by each group, clad in traditional mariachi costumes.
The winning high school group won a $1,500 prize and scholarships from the Elisa Gastellum Memorial Foundation. The grant is designated for school-affiliated mariachi groups made up of 9th to 12th grade students from southern Arizona.
Proceeds from the events go to the Tucson-based La Frontera Center Inc., a nonprofit behavioral health agency serving children, families and adults, and to foster the traditional values of Mariachi music and dance through activities that increase knowledge, artistic and technical experience.
For more information, please visit www.chauvetlighting.com.
Leave a Comment: