Chauvet Gear Used to Light SwimShow 2011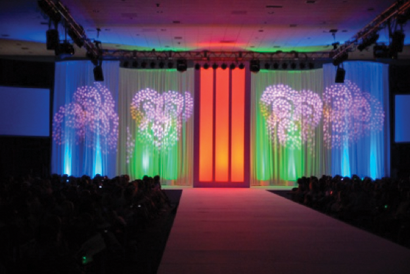 MIAMI BEACH, FL – New Image Productions used 12 Chauvet COLORado 1 fixtures to light the backdrop of the runway for SwimShow 2011 at the Miami Beach Convention Center. SwimShow 2011 coincided with the annual Mercedes-Benz Fashion Week Swim, an event that provides a runway platform for designers' swimwear and resort collections.
The Swimwear Association of Florida offers SwimShow as an opportunity for 2,000 buyers from the U.S. and 50 other countries to view designs from 350 exhibitors.
New Image Productions used the COLORado 1 LED RGB color mixing wash lights to provide changes in color and mood as the models appeared on the runway.
After each segment, the room would become dark and the next color scheme would appear.
The event began with a single uplighting of color, but as the show progressed, the lighting became brighter with a mixture of red, orange, yellow, blue and purple.
For more information, please visit www.chauvetlighting.com.
Leave a Comment: