Chauvet LEDs Help Turn Civic Center Arena into House of Worship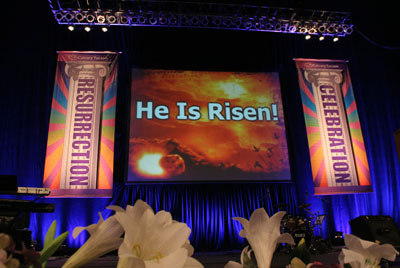 TUCSON, AZ — Total Lighting Support used Chauvet LED fixtures for Calvary Chapel Tucson's Easter service, which effectively turned the Tucson Civic Center into a house of worship for 9,000 attendees. "They wanted me to do some lighting on the drapery and asked me to try to add some color," said Scott Plummer, Total Lighting Support's owner. "They do this huge Easter service and it is important that it does not look like a rock concert."
That was the concern voiced by Bob Deyoe, who heads the multi-media ministry for Calvary Chapel, a non-denominational, Bible-centered church. Deyoe said the church combines its two campuses for Easter services, called the Resurrection Celebration, rather than holding four individual services to accommodate its growing congregation.
"We needed to light the stage bright enough for the video taping for television and for video streaming live on the Internet," Deyoe said. "In the past years, we had not done much uplighting and because of that, you get no depth."
But the lighting needed to be done right, without being over-done. "You don't want to it to look like a rock concert or cold, in a corporate sense," Deyoe added. "Scott responded extremely well and the lights were pretty close to perfection."
The service included a worship band and for that, Deyoe wanted warm colors focused on the background drapery. "But it needs to look good when the pastor is at the pulpit giving a sermon," he added.
Plummer brought in 18 Chauvet Colorado 6s to uplight the drapery, two strip lighting fixtures in front of pulpit to add light on the pastor, five ellipsoidal fixtures and 72 Chauvet LED PAR 64-36 fixtures for uplighting and downlighting.
The Colorado 6s proved to be well-suited for uplighting the drapery, Plummer said. "The lights changed colors from blue to cyan, green and red. It was awesome." When Pastor Robert Furrow delivered the sermon, Plummer kept the blue on as a static wash.
Deyoe said that congregants commented on the way the lighting added warmth to the stage. "The lighting made it as inviting as our sanctuary," he said. While the lights added to the live experience, they also gave the stage depth of field and "made a two-dimensional environment three dimensional" that was "easier on the eyes" for TV viewers.
The Easter service got Deyoe thinking about the expansion the church is about to undertake and the importance of lighting. "We need to light the new facility in the same way, because we are going to video in high definition," he said. "As we realized that broadcasting is going in that direction, lighting is something we need to address intelligently."
For more information, please visit www.chauvetlighting.com.
Leave a Comment: