Chauvet LEDs Used for W Boston Grand Opening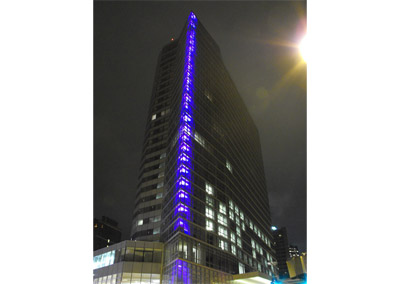 BOSTON — For the grand opening of the W Boston hotel, Light Insight Design Studio and High Output, Inc. collaborated on a temporary lighting design using Chauvet ColorDash Quad LED light fixtures in each of the corner rooms in the 28-story building.
From dusk to 11 p.m. during the hotel's grand opening, the corners of the building pulsed with a purple-hued glow.
"The ColorDash Quad is a self-contained unit requiring no additional hardware," noted Jess Klarnet, director of production for High Output. "It is a simple one-man installation: just place the unit, put a timer in line and go," Klarnet added, noting that total installation costs were minimal. "Even if the unit was knocked off its mark, the beam was such that we would still get good coverage."
For more information, please visit www.chauvetlighting.com.
Leave a Comment: