Christie Lites Sues Stageco Over Fort Worth Stockyards Tower Collapse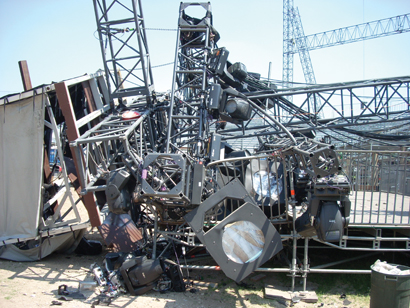 DALLAS – Christie Lites announced a lawsuit against Stageco over the June, 2009 lighting tower collapse at the Fort Worth Stockyards prior to a televised motocross event. The suit, which alleges that Stageco was negligent in the design and construction of the 90-foot-high tower, seeks more than $500,000 in damages and $1 million in punitive damages.
The collapse occurred prior to the scheduled event, which Christie Lites CEO Huntly Christie called "extremely fortunate," since the grandstands and general admission area where the towers fell were vacant at the time.
In a release, Christie Lites noted that it "has never had to take legal action against a fellow industry vendor," and said that the lawsuit was filed after "attempts to resolve this matter amicably."
Responding to the release, Tom Bilsen, Stageco operations manager stated,"Stageco takes its responsibilities very seriously, we are fully insured, so all parties will be appropriately protected and reimbursed.
"Following this unfortunate incident, we initiated our own investigation; there are multiple parties and multiple factors under consideration such as unpredicted wind gusts, and most importantly, there were no injuries," Bilsen added.
"This lawsuit relates to the collapse of one of eight towers days before the event which took place as planned. We anticipate the judges will need time to resolve this complex matter," Bilsen concluded.
For more information, please visit www.christielites.com and www.stageco.com .
Leave a Comment: