Christie Projectors Sing at the Grammys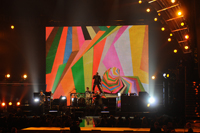 LOS ANGELES — AV rental and staging company American Hi Definition, Inc. marked its 12th year supporting the live Grammy Awards telecast by powering an array of rear-projection screens with the Christie Roadster series of 3-chip DLP projectors. The 51st Grammy Awards show was held at the Staples Center where an AV-rich set took center stage.
American Hi Definition, Inc. chose eight Christie Roadster HD18K projectors to feed graphic elements—from typography and logos to song-themed images—to a curved horizontal band of eight 9-foot-by-16-foot screens stretched across the main stage. With 1920 x 1080 native resolution, the audio-visual set beamed with crisp and detailed HD images that branded the event, signaled awards categories and complemented musical acts from top artists.
wo Christie Roadster S+16K projectors and one backup unit displayed graphics and IMAG of the action onstage on a giant 21-foot-by-11-foot vertical screen, which was placed center-stage and above a split staircase. With SXGA+ 1400 x 1050 resolution and 16,000 lumens of brightness, the Christie Roadster S+16K projectors delivered bright images with detail and depth of color.
To complete the Grammy's set, an additional pair of Christie Roadster S+20K projectors brought the broadcast feed to the Staples Center audience on two 13.5-foot-by-24-foot house screens placed out of camera range.
This year's Grammy Awards was the fifth consecutive time American Hi Definition, Inc. selected the Christie Roadster series of projectors for the mission-critical live telecast viewed by millions.
"The show went flawlessly," said Ady Gil, co-owner of American Hi Definition, Inc. "All of the Christie projectors performed just as we knew they would" and helped the show sing.
For more information, please visit www.christiedigital.com.
Leave a Comment: