Christie Projectors Used for 3D Holographic Interaction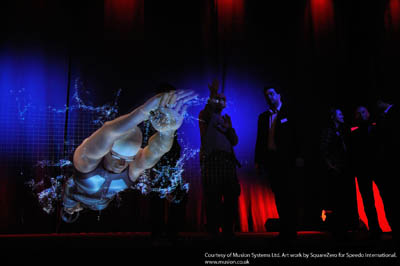 ORLANDO — Three Christie Roadster HD18K DLP projectors transmitted live, interactive 3D holograms from London and Montreal to Orlando during the InfoComm show, building on the Musion Eyeliner's previous work for corporate clients such as Speedo, pictured here. Called Musion Live Stage telepresence, the new technology provided a glimpse at how people can not only watch, but also communicate "face-to-face" in real time, crossing the boundaries of geographic distance via high-definition AV.
Potential 3D telepresence hologram applications include trade shows and retail displays, keynote speeches, visitor attractions, lectures, courtroom testimony, concert performances, entertainment programming and product launches — or any other use that can benefit from live, two-way interaction.
Along with Christie, U.K.-based Musion Systems is partnering with Masergy and HaiVision, to enable speakers in England and Canada to appear as 3D holograms and interact with their remote audiences.
"We're demonstrating another unique and innovative solution that takes full advantage of the power, flexibility, and image quality of our projectors," said Jeff Jaramillo, senior director of product management at Christie. "Just as Masergy is utilizing this technology with its guaranteed bandwidth networking to provide telepresence, new users will find creative applications for the Musion Eyeliner product and Christie's digital projection."
The Christie Roadster HD18K projector was used with Vista Systems' Spyder to create the largest live 3D holographic display to date. Musion Systems' Eyeliner technology produced the life-size, moving 3D holograms that appeared within a stage setting using industry-standard software. Illusio Technologies Inc. is the U.S.-based licensed reseller of Eyeliner.
"Christie is a perfect technology partner for this application, with its variety of choices in HD projectors as well as Vista Spyder switching options," said Nick Smith, president of AV Concepts. "Illusio Technologies provides 3D holographic projection solutions for live events and exhibits. The applications require not only the highest resolution but also extremely good black levels to accomplish the effect. The partnership with Christie to provide a total solutions package, which utilizes the Christie Roadster HD18K projectors and the Vista Spyder for image manipulation, is a perfect fit for our demanding requirements."
Musion's HD video-image capture processes and its Eyeliner Foil apparatus creates the 3D image transmitted by HaiVision's lowest latency H.264 codec, the Mako-HD. Smooth motion is possible thanks to Musion's faster frame rate of 50 interlaced frames per second, which produces the image edge-blurring necessary to make 3D images look realistic.
Masergy's high-speed global network speeds the delivery of an HD video signal for a jitter-free, life-like experience. The Christie HD18K projectors display the 3D hologram images on-stage, allowing the audience to see and interact with a person's transmitted image. The Vista Spyder provides the ability to scale multiple HD-SDI signals and graphics inputs to multiple sizes and positions. It also creates picture-in-picture windows with 4 to 6 layers on one HD output.
Musion Eyeliner technology, which was used to create life-size holograms of Madonna and the animated Gorillaz band for the 2006 Grammy Awards, has also been put to use to create 3D holograms of England's Prince Charles, Sir Richard Branson and David Beckham, and by corporations such as Reebok and Speedo.
For more information, please visit www.christiedigital.com.
Leave a Comment: