College Event at Space Center Lit with American DJ, Elation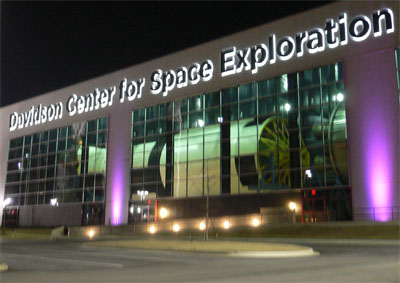 HUNTSVILLE, AL — The 68,200-square-foot Davidson Center For Space Exploration, home of the original Saturn V rocket, also hosted a special event for Oakwood College. Sutherland Sight and Sound lit the event with gear from sister companies American DJ, Elation and Global Truss.
"The college pretty much gave us free rein about how to light their production," said Josh Johnston of Sutherland Sight and Sound. "The Davidson Center is part of the U.S. Space and Rocket Center, where they hold Space Camp. So we wanted the lighting to play on the 'spacey' theme."
The crew used eight ADJ Mega Bar LED color-changing bars, two ADJ Galaxian red and green laser effects, four ADJ Par 64 LED Pro par cans and two Elation Design Spot 575 moving heads, accomplishing their mission without a stratospheric budget.
The crew hung par cans and moving lights on Global Truss and used an additional four ADJ Mega Bar Pros to light the outside of the building, controlling the gear with Elation's Compu 2048FC PC-based lighting control software.

"The Saturn V hangs from the ceiling and we wanted to draw attention to it," said Johnston, of the 300-foot-long craft that was ranked as one of the "7 Wonders of America" by ABC's Good Morning America. Johnston beamed the two Galaxians onto it, using a "solar system" type laser effect with each Galaxian producing over 500 red and green laser patterns.
Johnston also used a built-in gobo with the Elation Design Spot 575 that resembles the shape of the moon. "We used the zoom to change the size of the moon gobo pattern," he said, referring to the 575W CMY color-mixing moving head's 15°-30° linear zoom. "When you're in a facility so large, the zoom could make the gobo appear huge. When you're doing a space design, and you've got a moon that goes from being small to huge."

The stage for the center's 350-seat auditorium was illuminated with ADJ LED RGB color-mixing fixtures. The Mega Bar LED, a color bar with 252 red, green and blue 10mm LEDs, cast changing colors onto the stage's scenic elements, which included large sconces on each side.
Johnston chose the Mega Bar LED because "it's the best thing for the budget out there. You get a nice, even wash and it's super useful. You can do anything from face it toward the audience and run effects to washing walls."
ADJ's 64B LED Pro par cans were flown overhead on SQ-4114 square truss, also from Global Truss. "We use Global Truss because all of their products are in stock all the time, so there's never any waiting to get them. They have excellent customer service, their product is at a price point that's very affordable — and it works," said Johnston.

To wash the exterior of the building, Johnston used ADJ's Mega Bar Pro, a brighter version of the Mega Bar LED, containing 1W LEDs. "We needed to shoot as far up the building as possible, and the Mega Bar Pro is an inexpensive solution, especially when you're doing an outdoor event," he said. "It has a really long throw distance — I can put those out and be able to wash a great distance."

On his decision to use Elation Compu 2048 FC PC-based software to control the lighting, Johnston said that in an era of LED-powered fixtures, "it's not practical to use a console with the amount of DMX channels you're taking up. I pretty much always use Compu software now — whether it's the church market, the theater market, any market."

Compu software also doesn't require a rocket scientist, Johnston added. "Unless it's a professional venue, the people who are running the lighting are typically volunteers and not very experienced with controllers. So when you have a visual interface like with Compu, and can actually see what you're doing, it makes it a lot easier for the customer to use."

For more information, please visit www.elationlighting.com , www.americandj.com , www.globaltruss.com and www.sutherlandsightandsound.com.
Leave a Comment: