Cowboys Stadium Display Makes Impact in South Florida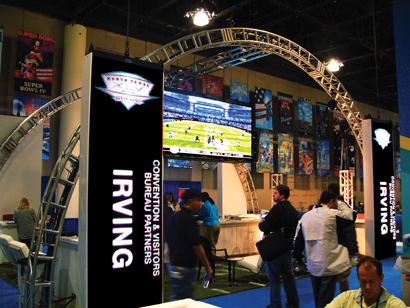 MIAMI – The NFL's Super Bowl Media Center welcoming the press to South Florida before the big 2010 game also offered a taste of what's to come in 2011, when Cowboys Stadium plays host to its first Super Bowl. Video visuals are a focal point for the full-sized Cowboys Stadium, and they were not ignored for the scaled-down replica of the stadium's support arches and its iconic center-hung LED screen, either.
GoVision, Daktronics, CorporateMagic and Todd Events teamed up for the Super Bowl XLV preview, anchored by visuals on the five-foot-by-10-foot central screen made from 14 modular Daktronics PST-6i-b LED panels.
Additional Daktronics PST-12HD LED panels are mounted on the booth's four corner columns, each column measures 12 feet by four feet. Video highlights run continuously on all of the panels, drawing attention to the area.
"We love working with the host committee because they always do things in a first-class manner," said Chris Curtis, CEO of GoVision. "In the same way, the folks at CorporateMagic and Todd Events know how to bring great ideas to life. We're proud to partner with each of them to give media reps from around the world a little taste of what's in store at next year's Super Bowl."
For more information, please visit www.daktronics.com and www.jumbo.tv.
Leave a Comment: