Daktronics Debuts Black-Package LED Display at InfoComm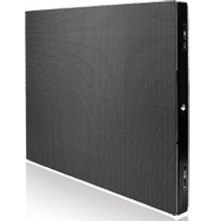 ORLANDO — Daktronics Inc. extended its PST product line with the PST-6i-b modular LED video panel, featured at InfoComm booth #2560. The 3-in-1 surface-mount device LED is designed for rental and staging applications and is the first in a series of black-package LED displays. "The product's thin, lightweight design allows it to travel efficiently and to top it off the panels offer an ultra-quiet solution for events that require little to no noise," said Myron Linde, Daktronics mobile and modular sales manager.
The PST-6i-b also features a 6 mm pixel design and display face that's 50 percent blacker than traditional indoor LED video displays, and its module housing has been designed to disperse heat evenly to minimize hot spots within the fanless cabinet design.
The panels also use a louver design to eliminate module seams, or "checkerboard effect." They feature a 140-degree horizontal and 110-degree vertical viewing angle.
Daktronics' modular PST panels can be combined in a wide variety of shapes and sizes to form large-screen video displays, with a shape and weight that helps ease setup and teardown. The panels also have 12 removable modules housed within the cabinet.
"The PST family lets customers defy the boundaries of traditional LED video," Linde added. "Close viewing distances, removable modules and a versatile building-block platform allow customers to explore a virtually infinite number of creative screen arrangements."
For more information, please visit www.daktronics.com.
Leave a Comment: