Dennis DeYoung to Host Parnelli Awards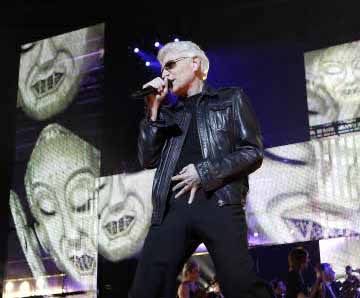 LAS VEGAS — The Parnelli Board of Directors has announced that Dennis DeYoung will be hosting the Parnelli Awards Nov. 20 in Orlando. DeYoung wrote and performed "Come Sail Away," "Babe," "Lady" and many other hits for Styx, and he also played a key role in the band's themed albums and theatrical and visually groundbreaking shows. "He was deeply involved in bringing Styx's concept albums to life in a theatrical setting," said Kevin Mitchell, Parnelli producer/writer. "Throughout his career he's put on intricate shows, including musical theater projects. Not included in the Wikipedia version of his life, he possesses a hilarious offbeat sense of humor. He will make this our best Parnellis yet."
DeYoung's contributions to Styx helped propel the band to international stardom, breaking new artistic ground as well as selling millions of records. In 1983 the group mounted an ambitious stage presentation based on their rock opera Kilroy that included an 11-minute film, which opened the show. It served as a glimpse into the future of live event entertainment.
DeYoung's solo career has included more hit songs and memorable concerts, and in 1993 he joined a touring revival of the stage musical Jesus Christ Superstar. He's also reworked his music in symphonic settings, in creative visually stunning settings. Last year his music for The Hunchback of Notre Dame premiered at the Bailiwick Repertory Theater in Chicago. He's currently working on another musical, 101 Dalmatians, set to open in Minneapolis later this month.
DeYoung said he is excited to host the Parnelli Awards, and is expected to talk about his early days, and how far the live event industry has come. "I remember going out on the road with just three light trees — and none of them worked!" he said.
More than 20 awards for live event excellence will be presented at the Parnelli Awards at a gala dinner on Nov. 20 at the Peabody Hotel in Orlando, including the Parnelli Lifetime Achievement Award to Jake Berry (U2), the Parnelli Audio Innovator Award to Stan Miller (Neil Diamond), and the Parnelli Visionary Award to Richard Belliveau with High End Systems, a member of the Barco Group. This year's Parnelli Awards will also include a new group of categories to distinguished products that are essential to live event production: the Indispensable Technology, or "IT" Awards.
The list of Parnelli Awards sponsors has been growing in recent weeks, and sponsorships are still available. Gold Sponsors now include: Barco Lighting Systems, Inc./High End Systems, Brown United, Chaos Visual Productions, Dedicated Staging, EFM Management, Harman Group, Maryland Sound International, Precise Corporate Staging, Rock-It Cargo, Sound Image, Strictly FX, Sennheiser, Tour Tech East and Ultratec Special Effects. Silver sponsors include: All Access Staging & Production, Chauvet, Lab.gruppen, PixelRange, Tyler Truss and Yamaha Commercial Audio Systems. Production Partner Sponsors include: Aerial Rigging (rigging); Paradise Sound & Lighting (audio); PRG (projection); SGASI Production Services (set design); Stage Crew (labor); and Techni-Lux (lighting).
For more information, please visit www.parnelliawards.com.
Leave a Comment: