Drake Show in Toronto Ends Tour with Laser and Pyro Effects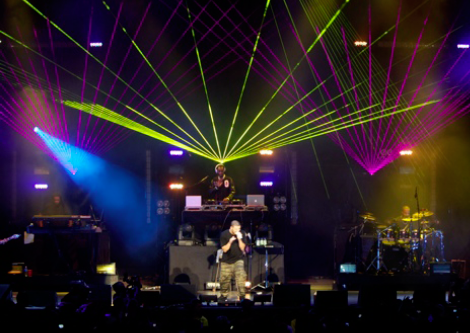 TORONTO – Pyrotek Special Effects and Laser Design Productions provided pyro and full-color laser effects for rapper "Drizzy" Drake's recent show at the Molson Amphitheater during the 43rd annual Caribana Festival, a two-week celebration of Caribbean culture. The show was combined as the inaugural OVO Festival (October's Very Own, Drake's entertainment company) and the last leg of his Away From Home Tour, which kicked off this past spring.
Tour Manager Anthony (Tony) Moore contacted Lorenzo Cornacchia, president of Pyrotek Special Effects Inc., with a request for a range of effects for the event. Cornacchia worked with lighting designer Steven Root and Victor Tomei, LaserDesign's operations manager, planning various layouts for the lasers and pyrotechnics for different songs.
One challenge for Pyrotek was the tight time frame. The company ended up providing four 25-watt OPS, full-color air-cooled lasers, but the schedule allotted for one day to load in, set up and programming, with the live show following the next day.
Laser programmer Jason McEachern flew out for the two days from rehearsals for the upcoming Jonas Brothers world tour to program and design the lasers seen during the evening's performance. He also operated the show and flew back to the Jonas rehearsals right after the show was complete.
Two lasers were situated stage left and right to shoot over the keyboard and drum risers, the third laser was located upstage center shooting over the DJ, and the fourth laser was mounted in the center upstage truss and shot various beam and scan effects onto the downstage edge, reflecting off a mirror strip.
Drake's title song, "Fireworks," wouldn't have been complete, of course, without some effective pyro. Pyrotek had two of its veteran pyrotechnicians – Reid Schulte Derne and Renato Sulmona – create a smooth progression of effects to support the song.
The two technicians, who have also worked on pyro effects for Metallica's Death Magnetic world tour, were able to take part in the Drake show thanks to a break in Metallica's schedule.
Shulte Derne collaborated with Cornacchia on the pyro design and operated the show while Cornacchia was at rehearsals with Jonas Brothers. Towards the conclusion of the song, the pyro crew had more than 250 effects fire in multiple directions, with various colors and sequences, creating the appearance of a close-proximity fireworks display on stage, using an assortment of comets, mines, airbursts and a series of silver gerbs.
The show featured additional performers including Rick Ross, Fabolous, Young Jeezy and Kardinal Offishal and surprise guests Eminem and Jay-Z. Drake then closed things out on his own with a rendition of his first single, "Over."
"Everything looked incredible," said Root. "I was actually jumping up and down, clapping my hands during "Fireworks." The entire show was fantastic, and the lasers filled in and complemented the lighting perfectly."
For more information, please visit www.pyrotekfx.com.
Leave a Comment: