Elation Lights, Global Truss Used at Whim Nightclub in Pittsburgh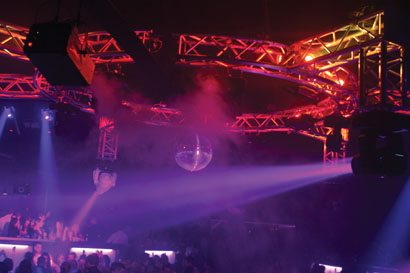 PITTSBURGH, PA – The lighting and truss designs play a key role in club owner Gabriel Fontana's transformation of an older 13,000-square-foot venue located in the riverfront Station Square district into a Vegas-styled mega club. Fontana, who also owns the S Bar on the city's south side, called his new venue Whim. "His other club is a smaller, college-type lounge, but he wanted to go much bolder and flashier in this space and give it a really unique look," said Michael Meacham of Miami Beach-based idesign, which was called on to do the lighting for the club.
"He wanted the lighting to be intense, in-your-face – something you wouldn't see in traditional nightclub. When he first contacted us, he said, 'Look, I know what you guys are capable of, but I don't want anything super-pretty or super-sexy, just a big, bold show."
Although the space was completely renovated, Meacham had to design around one remaining structural obstacle – a large I-beam ceiling support that ran down the center of the dance floor.
After drawing up numerous renderings, Meacham came up with a solution: a large, spider-like circular truss structure that hangs above the dance floor, holding six Design Beam 300 DMX moving heads from Elation Professional.
The idea, said Meacham, was to use the truss structure, not to camouflage the I-beam, but to bring it out even more. "We actually used the I-beam as a design element, and made it look like both the beam and truss were tied together into the architecture of the building."
To create the spider structure, which measures nearly 30 feet in diameter, circular truss from Elation's sister company Global Truss, was split in half. The two halves of the circle were then separated from the structural beam down the center so that "it looks like the line of the I-beam is built into the structure," Meacham said. "Then, using grapples and truss accessories, we brought the circle way out into the space and dropped it down, so it became this really bold design that filled up the space."
To give the spider its legs, six horizontal pieces of truss were attached to the circle. Truss toners were used to color and highlight the spider structure, adding an extra touch of drama. The six Elation Design Beam 300s drop down from the truss, becoming part of the show.
Meacham chose the Design Beam 300s for their 7.5° beam angles and 30,000 lumen output, which can produce "an intense fat beam look that cuts right through the space and fills it up with aerial effects. It gave us that unique look and bold statement that we wanted. If you look at it in a photo or video, it comes right out at you."
Another factor behind the decision, Meacham added, is that it's "not just a one trick pony. It's got the frost filter, which you can pull out and make it into a wash. And it's got full color-mixing and some split beams, too. When you shine those on a mirrorball, the reflections you get are just remarkable."
Elation's service and support, plus price, where also factors, Meacham said. "With Elation gear you get twice the fixture at practically half the cost of some of the larger manufacturers."
For more information, please visit www.elationlighting.com and www.globaltruss.com .
Leave a Comment: