Elation's EVLED Video Screens Used for "World's Fastest Beach Party"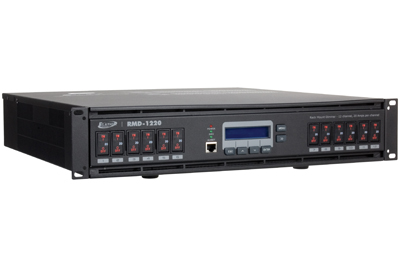 LONG BEACH, CA — The Toyota Grand Prix of Long Beach is a three-day event billed as the "World's Fastest Beach Party," drawing 180,000 spectators and featuring live concerts and a Lifestyle Expo with over 270,000 square feet of merchandise displays, interactive games and racing-related exhibits. This year, the Grand Prix venue featured a new attraction seen by most attendees: a 16-foot-by-8-foot EVLED1024SMD 20mm LED video screen from Elation Professional, positioned near the outdoor stage at the Long Beach Convention and Entertainment Center. It was used for a loop of advertising and other messages provided by event sponsor Tecate beer.
Festival Lighting (Buena Park, CA), which has provided lighting services to the Long Beach Grand Prix for 10 years, thought of adding the LED display screen to the outdoor pavilion.
"We suggested they try the Elation screen, because it would give another dimension to the entertainment," said Festival Lighting's Kenny Jones. The people at Tecate also "thought it was a good idea. They wanted it positioned so that when you walked off the street through the main gate to the convention center, you immediately saw the screen."
The EVLED 1024SMD, a lightweight medium-resolution transparent LED video screen with tri-color SMD LEDs, is IP65-rated for outdoor use. It is made up of modular, expandable 2'1" x 2'1" tiles with an integrated power supply, each weighing 16. 5 lbs.
Each tile contains 1,024 SMD LEDs rated at 100,000 hours, with a pixel pitch of 20mm and luminosity of 4,000 nits. The curtain itself is composed of a rugged aluminum alloy frame and rubber compound seams for weatherproof functionality.
The crew used 32 EVLED 1024SMD panels for the screen, arranged eight panels high and four wide. One of the Elation screen's advantages, said Jones, was its compact, lightweight modular design.
"We didn't need a semi-track to carry it — the whole screen fit into just four cases. And it could be quickly assembled by just two people, so the labor costs were very low."
The EVLED 1024SMD also used a lot less energy then conventional screens, Jones added, "just four 20-amp circuits, compared to 100 amps 3-phase power for the old-style screens."
Another advantage the LED screen offers over conventional projection screens is its visibility in daylight.
"I just did another show where the client wanted us to use projectors. You couldn't see their screen until 8 p.m.," said Jones. "But the Elation EVLED screen was clear and visible all day and all night."
The Grand Prix' organizers and production crew were pleased with this daytime visibility, agreed Elation's Ramiro Aguilera, who programmed the EVLED screen using content from a DVD provided by Tecate.
"The production manager was very impressed with the daylight application, because most of the shows (at the Grand Prix) are early afternoon into early evening," said Aguilera.
Although the event's producers were "basically experimenting" with the LED screen for advertising purposes, Jones expects them to use the screens more extensively for concerts and perhaps for the race itself.
"They weren't fully aware of the screen's possibilities," Jones said. "But once they saw it, everybody was in love with it. They're talking about having maybe two screens next year."
For more information, please visit www.elationlighting.com.
Leave a Comment: