Enter Shikari at Hammersmith Apollo Lit with Martin Fixtures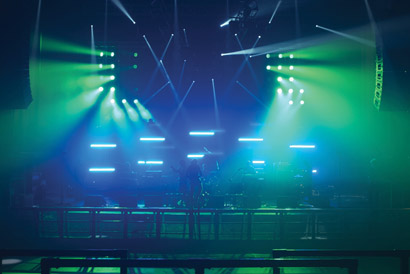 LONDON – Enter Shikari played their last date of a U.K. tour earlier this year at the Hammersmith Apollo in London. Lighting designer and programmer Steven Bewley's brief was for a "big, brash, in-your-face" rig. He turned to some of Martin Professional's newest MAC luminaires. "This was the last show in the U.K. for a while, so the band wanted to go out with a bang, so to speak," Bewley said. "The show had to be quickly rigged and be totally flexible as the tour stretched over a week with venue sizes ranging from big to small. These had to be shows the audience would never forget; they had to walk away feeling hungry for more, which I feel we achieved with the rig chosen."
Bewley created the feel with an arena style set up that fit comfortably within the confines of venues like the Hammersmith Apollo. The rig included 40 Martin MAC 301 Washes, nine MAC 250 Beams, 24 MAC 700 Profiles and 16 Atomic 3000 strobes with Atomic Colors scrollers, plus other gear. The lighting vendor for the tour was Adlib Lighting of Liverpool.
"I chose the 301s as I knew they were very bright with an excellent zoom range," Bewley said, of the LED moving head washlight with a 13° to 36° zoom range. "I also chose them as they are so lightweight. I flew 40 of them in two banks of 20 stage left and stage right at the very rear of the rig. Using anything else would have been risky."
Bewley also credited the 301s for speed and strobing. "As anyone familiar with Shikari knows, a Shikari show has plenty of strobing. The fast strobe gave me lots of cool effects and looks. I have used the 301s several times now including a Shikari European tour in January and I knew they would stand up to the test."
"We have invested heavily in Martin products over the years," said Adlib's Peter Abraham. "The 301s are a fantastic fixture and have been very busy, which is always good."
Bewley also incorporated Martin's MAC 250 Beam fixtures. The 250 Beams were placed in five pods in a pyramid shape across the back wall with an additional four on the floor.
"I wanted something that could punch through and shoot straight out above the audience so when their hands went in the air they could grasp the tight beams," Bewley said. "I also wanted to use them around the stage and band to create a kind of caged-in feel as you looked at the stage."
He credited the MAC 250 Beams for the tight beam effect and their brightness and speed. He also spoke favorably of the gobos. "They are excellent, and I had no problems at all with them."
Also in the rig, placed on a front and back truss, were MAC 700 Profiles. Hung at center stage was a V-shaped truss with Atomics with Atomic Colors scrollers as well as more MAC 700 Profiles. Below this were five meatrack pods, which were wheeled in and tipped on end on risers to create the pyramid effect, each housing Atomics and other gear. On top of that were the 250 Beams.
Bewley credited Adlib for their "amazing service" as well as production manager Paul Southernwood. He also commended lighting and dimmer technicians Darren Purves, Neil Holloway, and Charlie Rushton.
Martin lighting equipment:
40 MAC 301 Wash
9 MAC 250 Beam
24 MAC 700 Profile
16 Atomic 3000
16 Atomic Colors
For more information, please visit www.martin.com .
Leave a Comment: