ETC Controls Minimize Waste at Valley Family Church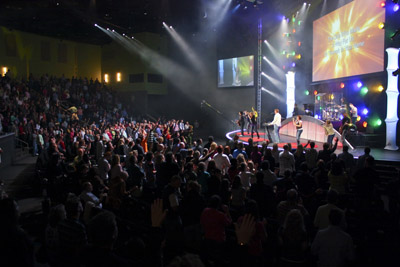 KALAMAZOO, MI — When senior pastors Jeff and Beth Jones led Valley Family Church (VFC) into a $12 million building campaign to ease their facility's overcrowding, they had no idea they'd be building during a serious economic downturn. Despite those challenges, VFC celebrated the grand opening of their new building recently with facility-wide integration of their lighting systems through ETC's Unison Paradigm architectural product line, Sensor+ dimming and control consoles.
"We are a non-denominational charismatic family church using technology to help reach a sight-and-sound generation," said Jeff Jones, noting the importance of how the lighting would be controlled.
LD Todd Kenter of TheatArch Design Solutions, LLC in Fruitport, Mich. came up with a fully-integrated lighting system that would meet Michigan's energy code.
"By integrating the systems, the church achieves better overall control of the building," Kenter said. "They have the capability to manually control the system from the security office — override the time clocks, force the building on in the case of an emergency, etc. They can control what lights are on, when they are on, and for how long.
"When the cleaning crew goes into a space to clean it, the local control station buttons provide them a way to force on the lights in that space, but after a predetermined time, the lights go back to their original levels," Kenter added.
"After 1 a.m., the building is "swept" off and all lights not determined to be essential for building security and general safety are turned off. There is a substantial energy savings in doing that."
Preventing the waste of power isn't the only advantage of the new ETC lighting system. "At 6:30 a.m., a working level of light illuminates the pathways to the office areas throughout the building for the staff so they never walk into a dark space," Kenter said.
System-wide integration also pays off for Valley Family's large events as well. If an event requires turning the youth or children's ministry spaces into overflow seating, the lighting in those rooms can be controlled from the ETC Ion console running the adult-sanctuary lighting. And in more typical circumstances, those rooms can also be independently controlled via their ETC Unison Paradigm control panels or the ETC SmartFade ML consoles.
Kenter says his choice of ETC equipment was influenced by several factors: "ETC is the industry leader — probably the most commonly-used product in the genre of houses of worship. They had the right product to meet all of the form, function, and budget requirements of this project. And their customer technical support is unsurpassed with 24/7/365 coverage."
"The integration of our theatrical and architectural lighting systems is nothing less than amazing," said John Thompson, director of media/tech for Valley Family Church. "This integration makes what would have been a complex control problem into a system that's simple to operate. I can train a volunteer how to turn on the entire building from one easy-to-use ETC touchscreen in five minutes. This ease of use greatly helps our ministry."
For more information, please visit www.etcconnect.com.
Photo courtesy of Valley Family Church
Leave a Comment: