ETC Eos Meeting Diverse Array of User Requirements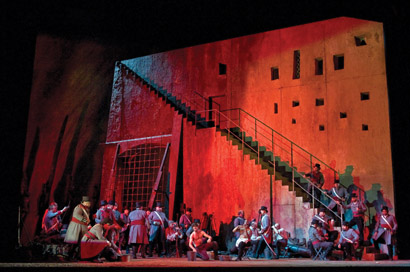 MIDDLETON, WI – Since 2006, ETC has shipped more than 400 of its Eos consoles, and as a networked system that can control conventional fixtures, moving lights, LEDs, scrollers, fog machines, media servers and more, they have collectively met a diverse array of user requirements.
The San Francisco Opera and the San Francisco Ballet share the 3,146-seat War Memorial Opera House, which employs an Eos lighting control system. Their system consists of two Eos consoles, an RPU (Remote Processor Unit), three RVIs and an Ion console. All shows are programmed on the main Eos console, and then run during performances on the RPU.
"We use a lot of moving lights in our system, and I wanted the feel of a 'conventional' console that other designers and I could relate to," said Chris Maravich, lighting director for the Opera. "I like the feel of the Eos – a moving light console as well as a conventional desk."
The Ballet staff needed a console that could be used by multiple users simultaneously. For their performances, they use the RPU as the main console, with a backup console available should the RPU encounter a problem.
The two Eos boards are used for programming and off-stage patching, while the Ion desk is used for remote focus of on-stage lighting. According to lighting designer Kevin Connaughton, "Eos is very quick. The learning curve was small and it was relatively easy to pick up."
At the Bellagio Hotel in Las Vegas, the lighting team for "OTM" by Cirque du Soleil® also upgraded to an Eos console. They were looking for a board that could control conventional fixtures, but also handle a moving-lights package, with a logical layout.
"The decision was quite easy for us, knowing ETC's industry reputation for quality, service and user-friendly operation," said Terry Wilkie, head of lighting for the production. "ETC has been around for 35 years in the lighting industry. With this comes a collective hardware and software knowledge of practical features and advantages that a console operator needs."
Switching over from their old light board to Eos took just one day. The crew transferred the show file from the previous desk to Eos via ACSII importing, checked it for inconsistencies and put the Eos to work the next night during the live production. Eventually they merged show files from all six of their old lighting boards into one Eos run by a single operator.
The San Diego Opera upgraded to an Eos system because the lighting team was looking for a system that could handle the number of scrollers they had acquired over time, and one that could also easily control moving lights when a show called for them.
Their Eos system consists of two Eos consoles – one for the tech table and another on the network backstage – an RVI (Remote Video Interface) and an RFR (Radio Focus Remote), allowing different members of their lighting staff to work throughout the theater to program shows.
"I love the board," said Chris Rynne, former resident lighting associate and lighting designer for the San Diego Opera. "It's cleaner and more intuitive. It's easy to use for people who have theater and integrated work. Eos makes it quick and easy to paint with light."
The Tennessee Performing Arts Center (TPAC) has a busy schedule of shows – performances for the Nashville Ballet, Nashville Opera and Tennessee Rep Theatre, along with Broadway and other touring shows – and needed a lighting system that was fast and easy to use.
The venues at TPAC have been equipped with Eos-family control: the 256-seat Andrew Johnson Theater has an Ion; the 2,472-seat Andrew Jackson Hall uses an Eos; and the 1,075-seat James K. Polk Theater uses an Eos.
An additional Ion console serves as a floater between the two larger theaters and is used during focus by an on-stage electrician who can bring up individual lights. Cues are stored on an RPU and executed from the Eos, which also serves as a tracking backup.
"Eos is a theatrical desk that can also do moving lights," said production manager Chris Wilson. "The Eos system does theater, concerts and one-offs. It's great for little shows on the fly. It also handles big shows like operas. There are few boards that fit that middle ground."
For more information, please visit www.etcconnect.com .
Leave a Comment: