E/T/C London Projects for Rockestra Fundraising Event in Malta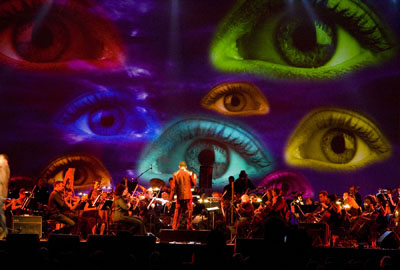 VALLETTA, Malta — The president of Malta, George Abela, asked E/T/C London's Ross Ashton to create a video projection show to accompany the island's two-hour Rockestra concert, a fundraising event for the Malta Community Chest charity. President Abela is the patron of the charity, the largest on the island, and with an audience of 12,000 packing into the Malta Conference and Convention Centre (MFCC), this ranked as the largest-ever indoor event to date held on the island.
The concert, under the music direction of Sigmund Mifsud, included orchestrated versions of rock classics by Queen, the Beach Boys, the Eagles, Led Zeppelin, Deep Purple and other bands, plus instrumental pieces performed by the Malta Philharmonic Orchestra. Also appearing onstage were several local artists including The Riffs, Pawlu Borg Bonaci, Neville Refalo, Daniel Cauchi and Jotham Saliba of Scream Daisy.
"It was a great honor to be asked back to Malta to work on this show," said Ashton. "I mean, I couldn't really say 'no' to the president! With so many musical genres and eras encompassed in the concert, it was also a really exciting and fun challenge to produce the two hours worth of projection artwork."
E/T/C London also supplied all the equipment and crew to make the projections happen, which were beamed onto a 20 by 16 meter upstage white screen behind the orchestra.
Two front-projected Christie 18K machines were overlaid to ensure a bright image, with control via E/T/C's OnlyView control system. All the video content was stored on the OnlyView Servers, and programmed in OnlyView and After Effects by Richard Porter and Karen Monid, with Monid running the show.
The E/T/C team created the artwork under Ashton's direction. Each song had its own individually-styled video content.
The evening included plenty of 1970 retro moments to match the Led Zeppelin/Deep Purple/Eagles era music. The Deep Purple section featured an Egyptian theme with lots of pyramid references. The crew created a Venetian dream sequence for Bohemian Rhapsody, and a fantasy theatre look for Queen's "Barcelona." Hotel California was accompanied by a visual road trip across America.
Apart from the sheer volume and diversity of content needing to be created for a two hour continuous show, Ashton said the other feature that made this project stand out was its flat surface. More used to projection onto building, objects, mountains and other miscellaneous surfaces and taking into account existing and intricate architecture and form, this time he had a completely blank, flat, white canvas on which to work.
For more information, please visit www.etclondonparis.com.
Leave a Comment: