ETC Unveils Element Consoles at USITT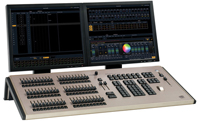 MIDDLETON, WI — ETC introduced the new Element line of consoles at the USITT 2009 tradeshow in Cincinnati. Element is directed at smaller venues like schools and houses of worship that depend on single console operators or volunteer staffers. The Element console is designed to handle rigs outfitted predominantly with conventional fixtures — spotlights, PARs, fresnels, and their accessories, including scrollers, mirror heads, gobo rotators, and so on — while also accommodating some LED fixtures and/or a small number of simple moving lights.
"We based Element on our Eos control system but with a simplified feature set in a stand-alone console," said Sarah Clausen, product manager, adding that integral faders, a single cue list and command prompts echoing those of the Express console make operation of an Element console simple and direct.
Element comes in two hardware versions, based on fader count — the Element 40 or the Element 60. Each supports either 250 or 500 channels and a full two universes of DMX output.
ETC addressed a number of user requests and special requirements in their new console. ETC engineered Element with true LTP channel faders for handling simple shows directly or for building up looks for use as submasters or cues, or for editing levels live. By turning a switch, Element's channel faders become 40 submasters for simple playback of live shows. When submasters are needed all the time, the Element 60 console provides 20 additional dedicated submaster faders.
Element records cues and fade times into a single cue list for simple playback of more complex shows using a GO button. Or, when users are ready to move up, they can access more complex timing functions like cue parts and follows to create more intricate lighting transitions. Element also opens the realm of special effects to basic operators by recording effects directly into cues or loading them into submasters for more dynamic lighting looks.
Element also navigates basic accessory, LED and moving-light control. At the press of a button, the console's On Demand ML Controls appear on screen with tools designed to control smaller numbers of non-intensity equipment like scrollers, gobo rotators and mirror heads for conventional fixtures. Element's color and gel-picker tools simplify the control process further, applying appropriate colors to LEDs and color-mixing accessories and fixtures.
ETC has also added plenty of options for technical support for the Element. It has on-screen prompts, a Help system, and there are video tutorials, to ETC's online Community Forums and standard expert 24/7 phone support.
ETC plans to begin shipping Element this summer 2009.
For more information, please visit www.etcconnect.com/element.
Leave a Comment: