Event Tech Supports 100th Anniversary Boys Scouts Jamboree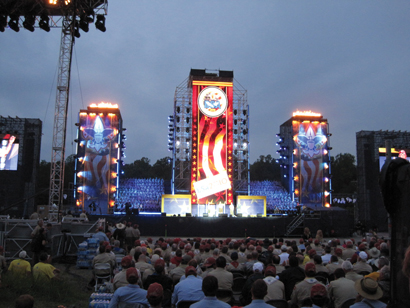 FORT A.P. HILL, VA – For the Boy Scouts of America (BSA)'s 100th anniversary National Scout Jamboree, Event Tech was tasked with providing all the structures for the three shows presented over the course of one week. The event took over two years to plan. The main event was Saturday, July 31, where over 80,000 people were in attendance for the anniversary celebration, which was also broadcast to scout troops across the country and streamed live on the web.
Event Tech provided renderings of the final structures to showcase how the structure, nearly the size of a football field, would look once in place. The task was to create a main stage for musical performances by bands Honor Society and Switchfoot, while allowing for seating of 300 boy scouts in the background and seamless set changes via passageways throughout the structure.
The main performance stage was 100 feet wide with an 80-foot-tall center tower that housed a custom head-block system to lift a 60-foot-tall LED wall, weighing in at over 12,000 lbs. Additionally, the center structure had a rappelling launch pad at 75 feet used by a boy scout to descend to the stage as part of the show, and stadium-style seating flanking the center LED wall for choirs, an orchestra and participant seating.
Two 55-foot-high side towers supported 18-foot-by-35-foot LED screens to magnify the onstage talent for the audience, and two additional 65-foot-high structures served as audio fly towers. Each tower had decking on top for pyro and flame cauldrons, which helped create one of the largest fireworks display on a military installation anywhere in the world. All of the elements were connected by a 20-foot-high cable bridge system, to allow for cable management and vehicle traffic below, making the structure 395 feet wide in its entirety.
With such a large audience and structure, it could have proven to be a lighting challenge to say the least, but Event Tech's new Lighting Truss Towers provided positions well-suited to light the large structure while not blocking audience sightlines. Utilizing the new modular ballast system, the towers provided the low profile, high height and load capacity needed for lighting positions. At over 48 feet high and with a 20,000 pound load limit, the Lighting Tower System will prove to be one of the most resourceful products in Event Tech's inventory.
In the end, over 17,000 structural components had to be assembled over the course of seven days to create the main stage and associated structures. Event Tech sent a total of 18 tractor trailers to the site for the staging and structures.
For more information, please visit www.eventtech.com.
---
Leave a Comment: