FBE Juggles Press Events At NY International Auto Show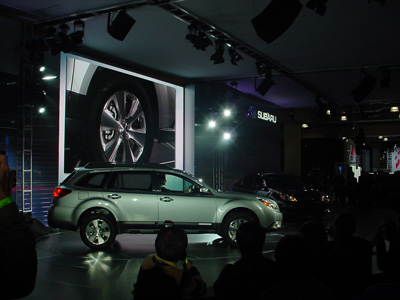 NEW YORK — "Not really a big deal." That's how Full-Blown Events co-founder Dave Judy described his company's staging back-to-back press events for Subaru of America and Mitsubishi Motors, N.A. at the recently-held New York International Auto Show. As anyone who has ever been involved in the production of such events knows, however, the feat involved designing and equipping of two separate staging venues, coordinating two separate crews and managing the two events—held within one hour of each other.
Mitsubishi's event was first on the schedule at New York City's Javits Convention Center and involved the introduction of its left-hand drive iMiEV electrical vehicle, the new 2010 Lancer Sportback Ralliart and the top-of-the-line Outlander GT compact crossover.
An hour later, Subaru was up with its introduction of the all-new 2010 Legacy All Wheel Drive Sedan and a surprise reveal of the 2010 Outback, the car maker's mid-size wagon/crossover SUV vehicle.
Both events featured product videos, reveals and executive presentations with graphics and speaker support material. Supervision of these elements was handled by clients' executive producer Mike Hansen whose long-standing working relationship with FBE made it possible to "rely on FBE with complete confidence for all the technical and logistical services associated with these events," according to Hansen.
FBE co-founder Peter Twill noted that the timing of the events came as somewhat of a surprise to his team. "We'd signed on for both events before the press event schedule had been released, so the timing was a bit of surprise for us. But handling these kinds of unexpected developments is really what separates the men from the boys in our business."
FBE's Judy cited three factors that helped FBE keep the glitches at bay.
"First of all, there's experience. We've done so many of these events, and others like them, the entire production process is really second nature to us. Second, there's our intimate working relationships with our crews and sub-vendors. We've all been together so long, everyone just intuitively knows how to work with each other."
Lastly, Judy cited what he calls the "FBE way," stating, "We've worked all over the world with all kinds of clients in all kinds of situations. But at heart, we're California guys. We just don't get rattled! We know every problem has a solution, one we've probably even come up with before. It's the FBE way—we're in full control, all the time."
For more information, please visit FBE's Web site at www.gofullblown.com


Leave a Comment: