Fiesta San Antonio Crowds, Sponsors Get Boost from GoVision's "GoTron"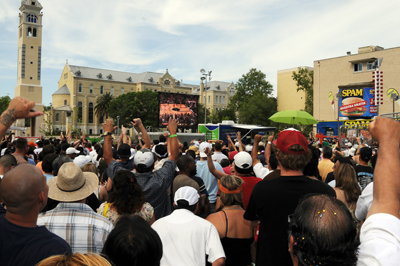 SAN ANTONIO, TX — With an expected 3.5 million visitors and multiple events staged over an 11-day span in late April, including the Opening Ceremonies, Fiesta Oyster Bake, Night in Old San Antonio (NIOSA), Fiesta Flambeau Parade and the Battle of Flower Parade, event sponsors might worry about their message getting lost in the crowd. To counter those concerns, the event's organizers have arranged for mobile video screens provided by GoVision. The company's 9-foot-by-12-foot mobile LED video unit dubbed "GoTron" and touted for its flexibility and accessibility for events like Fiesta, will be deployed at two sites for each day of the festival at all the biggest events in a bid to give sponsors better exposure and give attendees a better view of the action.
In addition to capturing up-close views of the main attractions, GoTron will integrate sponsor ads and other production elements. GoVision's production crew will operate two live cameras during "Fiesta, Fiesta at the Alamo"—the festival's Opening Ceremonies —which, for the first time, will be conducted at night.

"The organizers of Fiesta San Antonio really thought outside the box when it came to deploying mobile video at their event," said Chris Curtis, president of Keller, Texas-based GoVision. "They're offering their sponsors creative promotional platforms, such as live remotes from company locations that can be replayed later at other venues, and incorporating various interactive elements into the video broadcast. Other festivals could learn a great deal from Fiesta San Antonio's example."

"We're excited about all the ways we are integrating GoTron into this year's Fiesta," said Nancy Hunt, sponsorship director for the 2009 event. "GoVision has said 'yes' to every one of our crazy ideas, which has enabled us to deliver added value to our sponsors and attendees alike."

Fiesta San Antonio began as a way to honor the memory of the heroes of the Alamo and the Battle of San Jacinto. That commemoration still takes place. But over the past century and more, Fiesta has grown into a celebration of San Antonio's rich and diverse cultures. 2009 marks Fiesta's 118th anniversary.
For more information, please visit www.jumbo.tv..
Leave a Comment: