FLDA Gets its Game On with Sports Gigs from ESPN, MLB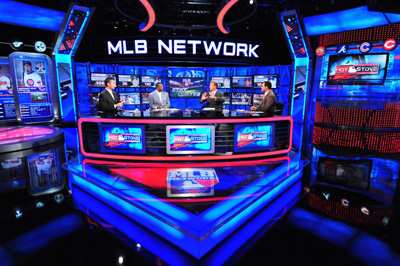 SECAUCUS, NJ — If there's any professional lighting project where you need to have your game on, it's lighting a TV sports show. Bruce Ferri, principal of Ferri Lighting Design & Associates, should know. FLDA recently took on the task of providing the lighting for both the new West Coast studio for ESPN's SportsCenter in Los Angeles and the MLB Network's new digs in this New York suburb. "Sports broadcasting is an interesting challenge because they are giving fans the day's news but also presenting it in a fast-paced, high energy format and the studio needs to be able to convey that energy and excitement," Ferri said. "Also, the space itself is used for multiple different setups and styles of shots, so you really have to breakout of just the 'guy sitting at a desk look' but at the same time the lighting can't compete with the show, it has to enhance it."
ESPN's new LA facility, located above the ESPN Zone restaurant in the AEG-owned entertainment complex, LA Live, features two studios, three production control rooms, two master control rooms, eight edit suites, a music room, and a voiceover room — more than 12,300 square feet.
On Mondays through Fridays at 10 p.m. PST, the live broadcast of SportsCenter LA edition airs on the network. The regular anchors are Neil Everett and Stan Verrett with ESPN's Stuart Scott making special appearances.
Ferri led the lighting design team along with FLDA associate LD Mick Smith and assistant LD Ben Pilat. Andre Durette, head designer with Jack Morton/PDG, handled the production design. Barbizon Lighting provided systems integration.
"ESPN wanted an LA presence," says Ferri. "They wanted to establish a West Coast base. I knew going in that the challenge would be to keep the trademark feel of an ESPN broadcast but still reflect the different energy of the West Coast location."
From a design standpoint, the brief was that the set and lighting had to be instantly identifiable as the SportsCenter set, but it did not have to match it pixel by pixel. Although the set and lighting are similar, there are differences.
"Because the set was slightly different, it took the light differently," Ferri said. "One of the biggest differences is that the louvers behind the anchors in Bristol are solid Plexiglas and they are clear and horizontal. In LA, they are angled more and frosted. So the LED uplight that lights them in LA is very prominent, where in Bristol it is very subtle. We were able to get more vibrant colors in LA."
As in Bristol, "behind the debate area, the main background is red and the graphics on the Plexiglas are blue," Ferri noted. "The panels are treated with Wildfire ultraviolet paint and uplit with Altman Lighting UV PAR fixtures. This helps give some real depth and definition."
For the SportsCenter L.A. set, Ferri used AC Lighting's Chroma-Q™ Color Span™, a low profile LED cove lighting and wall wash system. "It is a one and a half story set, with an upper part that consists of a four-foot cyc behind louvers and a graphic panel," Ferri said. "We used the Color Span to light that upper portion of the set. The Plexiglas louvers were lit by a JamStar Lighting Elite LED PARs, which are very small and compact and do not flicker on camera. That is a very, very important property for units when they are used for broadcast."
For the Major League Baseball Network, Ferri lit two studio spaces at the network's headquarters and studios in Secaucus, N.J., which were formerly broadcast studios operated by MSNBC. The launch of the MLB Network, to some 50 million homes, ranked as one of the largest network debuts in cable history.
The two studios are named in honor of Babe Ruth and Jackie Robinson, and total 15,200 square feet. Every video display in both studios is fully native HD, as is all the video produced at the studios. Ferri's team once again included FLDA associate LD Mick Smith and assistant LD Ben Pilat. The production design was handled by lead designer, Bryan Higgason of Jack Morton/PDG.
Studio 3 will be the primary home of the live nightly studio show, MLB Tonight. "The main studio is only used for the main anchor desk right now," Ferri said. "It is called the Technology Studio and features a wall of monitors behind the anchor desk. It will have more show units using this space over time." Studio 3 features a desk that can rotate to various stations and includes six distinct broadcast areas, including a balcony, stat center, and interview area. The ceiling is ringed by backlit logos of all 30 MLB teams.
The Technology Studio required "very precise keying to control any spill from the backgrounds," Ferri said. "Since one background is a huge 30' x 7' rear-projection video wall and the other background is a sea of monitors, we need to be very controlled with the lighting. For the key lights in the Technology Studio, I used ETC Source Four ellipsoidals. The set was all lit with Source Four ellipsoidals. There is also a lot of Plexiglas and metal in the background so we wanted to control the reflections. The RP screen is designed to handle ambient light really well."
The second studio, Studio 42, measures nearly 100 feet by 100 feet, is referred to as the Demo Field. It is, in fact, an open, half-scale baseball diamond made of field turf, measuring 45 feet from base to base and 30 feet from home plate to a moveable pitcher's mound. It is used as a demonstration center by MLBN's on-air talent, many of whom are former players. It can also be used for both formal and informal interviews.
The studio also features a replica brick outfield wall, complete with padding, three different seating areas that can hold up to 173 people, and an out of town scoreboard that is loosely modeled after the scoreboard at Citizen's Bank Park in Philadelphia, which will be updated in real-time.
"Lighting in the Demo Field, was pretty much the opposite of the Technology Studio," Ferri says. "For baseball demos, guys are running all over the place, so we had to have a pretty broad field wash, yet we still needed to keep the backgrounds and the walls interesting. There were limited positions on the grid and the field literally goes from wall to wall, so we had to get creative as to how we were able to get an even lighting on the field for when they did the demonstrations.
"We worked with the set designer and designed stadium-like lighting trees that were able to hang in the shot and be actually functional," Ferri continues. "For the lights we used stubby 500W PAR64s. We felt that the stubby, silver PARs were more reminiscent of actual stadium lights. It was cool —without even thinking of lighting, Bryan had drawn in these little circles that were supposed to represent stadium lights. I saw that and thought that I can use them to help light the field. We have these trees on all four sides, because when they do demos they use a Steadicam and a jib so they can shoot everywhere."
Ferri likes that the Demo Field is also versatile, "When we are not doing demos but informal interviews, by selectively peeling the field wash back, we have been able to create a lot of interest in the backgrounds. Because the studio is so large—100 feet by 100 feet —we get incredible amounts of depth. Someone commented to me 'a close-up with depth behind it, where do you find that anymore?' Most of the walls are brick to evoke the feel of Camden Yards in Baltimore, so to make the backgrounds interesting, I used uplight a lot trying to mimic architectural lighting and on top of that I put a base wash of dark blue to light the shadows and on top of that I put patterns. There are lots of layers going on to make the backgrounds very interesting."
Sportscaster Bob Costas is part of the talent at the MLB Network and conducts his interviews in Studio 42. "We have another look designed for those interviews, where it is not just a couple of guys hanging out, it is more formal when Bob is interviewing different sports personalities," said Ferri. "That has a very different feeling, very moody. It is a real sexy look. When we launched the studio, Bob interviewed Yogi Berra and Don Larsen about the perfect game in the 1956 World Series. That was the first time we got to see that look and it has really great backgrounds. We were all very pleased."
For more information, please contact shannon@flda.tv or 212-366-4014.
Leave a Comment: