Fleetwood Mac Tour Unleashes New Lighting, Video Design Using grandMA, Martin, Others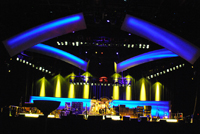 PITTSBURGH, PA — Fleetwood Mac's "Unleashed" tour is using a lighting design by Paul "Arlo" Guthrie, who used grandMA consoles for lighting and to control the video images appearing on Martin LC LED panels. The band began its tour of the U.S. and Canada on March 1, and will continue to play dates through the summer.
Guthrie, of Toss Film & Design, Minneapolis, handled lighting, set, video and content for the tour.
"I decided early on that I wanted a clean, simple look that complemented the band," he says, "and I wanted to use technology in a way that enabled us to create modern versions of retro themes. We wound up using a lot of high tech equipment to try and make it look low tech."
He commented on the decision to use the Martin LC panels in the design: "I spoke very early on to Brad Haynes at Martin US about incorporating EvenLED (LED panels) into six large scale curved light boxes that are the centerpiece to the design but ran into some logistical obstacles on our end that made us move in a different direction.
"On advice from our crew chief Ronald Beal at rehearsals, we realized the LC panels would fit into our set pieces and accomplish what we wanted to from the beginning, and from the second they powered up they looked fantastic."
Guthrie has 42 of the 1-meter-by-2-meter LC Series LED panels installed to internally light the light boxes as well as run graphical content for effects. Guthrie also created visual content and programmed the show with Axis deBruyn, the tour's lighting director.
"Arlo and I programmed the whole show during two weeks in Los Angeles," said deBruyn. "The design of the show is fairly simple, with lots of video. Two PRG Mbox EXtreme Media Servers feed custom content to 42 Martin LC Panels mounted into light boxes."
Among the lights controlled by the grandMAs are 120 custom Barco O-lite PAR cans, six DL.3s from High End Systems, five PRG Bad Boys, eight Vari*Lite 3000 spots, eight Vari*Lite 1000TS spots, 14 Vari*Lite VL3500 washes, eight Vari*Lite VL500 washes and 16 Altman Mini Strips.
Guthrie comes to the grandMA having used other desks in the past. "He's very happy with it," deBruyn said. "He especially likes the way it handles media servers more than any other console he's used."
"It is a pleasure watching Arlo use the grandMA through his programmer, Axis deBruyn. They have tapped the power of the grandMA and the show has really benefited from the sophisticated lighting and video," said Bob Gordon, president and CEO of A.C.T Lighting, which distributes the grandMA.
For more information, please visit www.actlighting.com and www.martin.com.
Leave a Comment: