FSU to Preserve JR Clancy Rigging Archives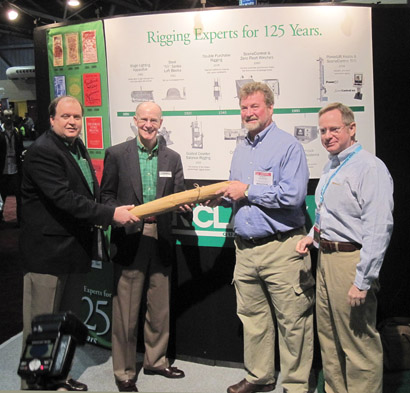 TALLAHASSEE, FL – Interested in the evolution of rigging over the last 100 years? Florida State University (FSU) now has a repository for about15,000 project and product drawings from the last century, produced by engineers at J. R. Clancy, Inc. J. R. Clancy presented the vast assemblage of materials to the FSU School of Theatre on March 31 at the opening of the USITT Stage Expo in Kansas City, MO. FSU will make this unique collection of documents accessible to students, historians and others who may research the development of theatre rigging.
The collection includes drawings that tell the story of a critical period in the company's history, during the transition to motorized rigging. Beginning in the 1960s, Clancy manufactured the synchronous point hoist and early "package hoists," precursors to the motorized hoists used today.
The university projects that the archive will be available in digitized form on the FSU Web site by fall 2010. The university's Strozier Library is equipped with new scanning technology that will accommodate fragile historic documents, including large-scale renderings and elevations. Library staff will complete the scanning, after which the paper documents will go into archival storage.
"When you've been in one manufacturing business for 125 years, you can trace the development of the industry and see all of the innovations our company made possible," said Bob Theis, J. R. Clancy chairman, who made the presentation to FSU at the USITT conference with J. R. Clancy president Mike Murphy.
"This is a fascinating collection of technical drawings and other historical documents from an important period in the advancement of rigging technology," Theis added. "We know that this information is a valuable resource-especially the technical drawings-and we are delighted to make all of this available as an archive on the university level."
Included in these documents are renderings and elevation drawings of theatre projects installed through 1990, as well as drafted drawings of equipment manufactured by Clancy-both off-the-shelf products and custom-designed equipment for specific venues. In addition, the archive will include digital copies of every J.R. Clancy catalog, dating back to the company's inception in 1885.
"People can use this information for historical reference, to see how rigging equipment and methods have changed over the decades," said Theis. "In addition, we are often approached to help determine the origins and dates of scenic paintings, a variety of which are represented in the archive. Researchers will find these references as well as how-to drawings, schematics for the first control systems, and even drawings for hardware still in use today, like cast-iron sheaves, head blocks and pipe clamps."
For more information, please visit www.jrclancy.com
Leave a Comment: