Gemini Stage Lighting Provides Vari-Lite Gear for Prestonwood Baptist Christmas Show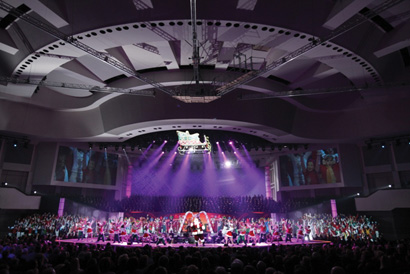 DALLAS – Prestonwood Baptist's Gift of Christmas was a big holiday bundle with large-scale LED video and over 800 cues. Gemini Stage Lighting provided LD Matt Webb and lighting director James Maddux with 107 Vari*Lite luminaires for the event, including 35 VL3500 Spot, 40 VL3000Q Spot and 32 VL3500 Wash fixtures complementing the church's house rig of 12 VL3000Q Spot, six VL3500Q Spot and six VL3500 Wash fixtures. "I knew that my biggest challenge would be achieving the perfect balance between the intensity and color of the LED Wall and that of the lighting rig," said Webb, of the 8.5-by-60-foot video wall that served as the main scenic element for the production, displaying 36 separate videos created for the show. "We love the Vari*Lite optics, and their lumen output was definitely needed for this show," added Maddux.
The VL3500 Spot fixtures were used primarily for front light, side light specials, and gobo patterns on the back cyclorama. Webb also used them as his primary light for both the primary performance areas and the smaller set pieces on stage because of their shuttering capabilities.
The VL3000Q Spot luminaires were used for their beams, color, and strobe effects from both back light and floor light placements for the more high-energy production numbers. And Webb used the VL3500 Wash fixtures as his main wash light and for backlight effects. With only eight VL3500 Wash luminaires, he was able to light a 400-member choir.
Along with the fixtures, Webb and Maddux credited Gemini, respectively, for "excellent service and support" and "the quick load-in."
For more information, please visit www.vari-lite.com.
Leave a Comment: