George Thorogood Tours with Elation Impression 120RZ Fixtures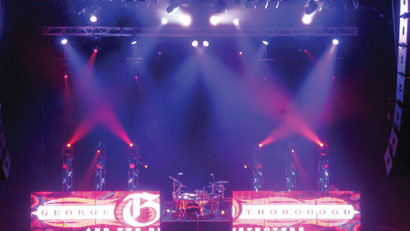 APPLE VALLEY, MN – After 35 years of touring, George Thorogood is hitting the road once again, with a mix of tunes dominated by classics from the 1970s and 1980s but with a much newer lighting rig from Toucan Lighting that includes Elation Professional's new Impression 120RZ "Zoom" fixtures. Like the original Impression, the Impression 120RZ is an LED moving head with RGB color mixing and a new baseless design that makes it more compact and lightweight. The 120RZ also allows for a 10° to 26° Automated Linear Zoom for versatility and a new LED source – 120 Luxeon Rebel LEDs (42 green, 36 blue, 42 red).
It was the Zoom feature that sold Robin Alvis of Toucan Lighting on the fixture. Toucan Lighting, based in Oklahoma City, OK, has been supplying lighting to Thorogood for five years.
"I saw the regular Impression at last year's LDI show and was really impressed by its brightness, compact size, light weight and the fact that there's no bulb replacement," said Alvis. "I definitely wanted to step up to an LED moving head, but I also wanted something with a zoom. Then Joe Adams of Elation told me about the Impression 120RZ, and they brought them here for a demo – and I actually was blown away!"
Alvis said that the Zoom feature opens up many more design options. "If you want a tight beam, you can get a tight beam without changing any lens. And then you can just zoom it up and get a bigger beam for a wash light."
Thorogood's LD, William Bennyhoff, is using a total of 28 Impression 120RZs on the tour set – 12 upstage, 10 downstage, and six on the floor for uplighting. "The lights in the back are all set to narrow (beam), and the 10 downstage are all wide. We were able to cover the whole 40-foot width of the stage with just those 10 fixtures.
"The brightness of the Impression 120RZ is phenomenal," Bennyhoff added. "It's actually too bright for the floor lights, so we put a gel in front of it to diffuse it."
Bennyhoff, who designed the Thorogood show around vivid, intense primary colors – blues, magentas, ambers – this is old school rock 'n' roll – also credited the 120RZs' color mixing.
Bennyhoff and Alvis are also pleased with the small size of the fixtures, which they say makes life much easier both onstage and on the road. "You're talking 17 lbs. as opposed to 50 lbs." for a conventional moving light, said Alvis. "And you can get six (Impressions) in a case as opposed to two."
Added Bennyhoff, "We're using 12-foot truss upstage and downstage, and we've got only about 350 lbs. total on the rig. The compact size makes it real modular to pack up and transport them, too – we can get 28 lights in 6 feet of truck."
The Impression 120RZ's 50,000-hour LED lamp life is another convenience. "Usually, with this type of wash, after 400 hours you're spending $150 per instrument on bulbs," said Alvis, "but these just last and last" – not unlike, it seems, Thorogood himself.
For more information, please visit www.elationlighting.com and www.toucanlighting.com.
Leave a Comment: