Glenn Beck and Bill O'Reilly Get Bold & Fresh AV & Lighting from Scharff Weisberg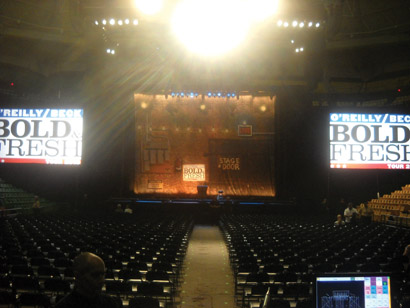 NEW YORK – When Glenn Beck and Bill O'Reilly kicked off the 2010 leg of their Bold & Fresh tour, Scharff Weisberg provided AV and lighting support. Scharff Weisberg also supported Beck's solo American Revival tour. Rich Bonn, tour manager from Mercury Radio Arts for the initial three-city Bold & Fresh tour, LD Dennis Menard and production designer Martin Graves partnered to create the look for show. Scharff Weisberg's Erik Perry and Terry Jackson then prepared custom arena lighting rigs for back-to-back shows in Tampa, Charleston and Norfolk, Columbus and St. Louis.
The lighting package for the tour included L&E 6-foot mini strip lights and ColorBlaze 72s, Source Four Lekos, PARs and Vari*Lite VL2500s. Wholehog 3s and grandMAs supplied lighting control.
Video support for all locations consisted of four Sony DXC-D50 cameras, a Panasonic multi-format switcher and two large 18-foot-by-24-foot screens with dual-converged Christie S+16 projectors.
After Norfolk, the next stop for Glenn Beck was his American Revival Tour at the University of Central Florida Arena in Orlando. "This was a completely different show with an end stage in the round, requiring modified lighting, video and audio," noted project manager Guy Bostian. "Jim vanBergen, the technical supervisor from Mercury Radio Arts for this tour, was instrumental in pulling it together."
Video screens were hung back-to-back behind the stage, and Barco R12 projectors were utilized for all four screens, dual converged. Beck introduced some video clips for the show, played back from Grass Valley Turbos, along with an extensive PowerPoint presentation. Four cameras were all switched with a Grass Valley Kayak. The American Revival tour staged a similar show at the Jobing Arena in Phoenix.
"It has been a great experience working with these tours," Bostian said. "The planning and execution has been a collaboration of many talented people, including Daryl Carmen and Jim vanBergen and our on-site project manager Terry Jackson and director of audio David Lynd. Dennis Menard, Martin Graves and head rigger Tony Bonilla went above and beyond to facilitate rigging and lighting," he added.
For more information, please visit www.scharffweisberg.com or www.videoapps.com.
Leave a Comment: