Golden Gods Lit with MAC 401 Dual LED Fixtures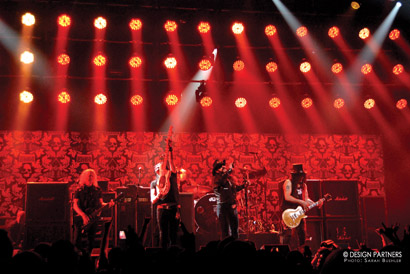 LOS ANGELES – LD Lee Rose used 48 Martin MAC 401 Dual fixtures as part of the rig for the 2010 Golden Gods Awards, which was sponsored by Revolver magazine and staged at Club Nokia. Hard rock fans got the chance to hear Slash, Lemmy Kilmister, and Dave Grohl performing Motörhead's "Ace of Spades." Rob Zombie, Zakk Wylde, Fear Factory, As I Lay Dying, and Brian Posehn also performed.
Rose, who had previously used the MAC 401 on both the ABC Disney Christmas Parade special and Dick Clark's New Years Rockin' Eve, sought to use Martin's LED fixtures in a new way, but with a retro twist.
"For this show, I had the concept of an updated 'wall of light,' like what was done with PAR-64s in the heyday of heavy metal tours," Rose said. "I knew, from my previous experience, that I wanted to build this 'wall' with MAC 401s."
Rose created the look by hanging three rows of 14 fixtures under the upstage truss. He then placed three fixtures per side to create low side light from some vertical trusses on the downstage sides of the stage.
The MAC 401 Dual has a double-sided design, and the fixture is touted for the speed of its zoom, broad beam looks and individual LED segment control.
Rose also credited the 401 Dual for its unified color output and the ability to use segments of the LEDs for new looks. He worked with programmer David "Gurn" Kaniski on the Golden Gods show.
"The fixtures performed wonderfully. I was extremely happy with the look we got from the design based on the fixture," Rose concluded.
For more information, please visit www.martin.com.
Crew:
Promoter/Producer: Revolver Magazine / Stage Presence
Executive Producers: Josh Bernstein, Alana Zinn, Allen Newman
Executive In Charge of Production: Allen Kelman
Lighting Designer: Lee Rose
Lighting Director: David "Gurn" Kaniski
Lighting PreViz & Pre-Cueing: ShowViz Lite Lab, Los Angeles
Chief Lighting Tech: Christian Killingsworth
Lighting Company: Felix Lighting, David McKinnon
Production Electrician: Mike McKinnon
Venue Lighting Director: Keith Mitchell
Venue Production Manager: Jennie Perkins
Venue Production Coordinator: Julie Galetar
Production Designer: Lee Rose
Art Dept: Joseph Watts
Staging Company: All Access, David Agar
Video Director: Allen Newman
Martin Lighting equipment:
48 Martin MAC 401 Dual fixtures
4 Martin MAC 700 Profiles
30 Martin Atomic 3000
Photos: © Design Partners; Photos: Sarah Buehler
Leave a Comment: