Golfing Events Supported by Upstage Video, Daktronics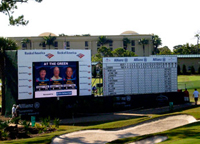 BOCA RATON, FL —Upstage Video used Daktronics PST-12HD modular LED panels in a 12 feet high by 16 feet wide display for live video coverage at the Allianz Championship here, at the Ace Group Classic, a PGA Champions Tour Event in Naples, Fla. and also at the Honda Classic in Palm Beach Gardens, Fla. "We're very excited to be onboard with this great new panel from Daktronics," said Doug Murray of Upstage Video. "We recently unveiled the PST-12HD at the Allianz Championship, the display did a phenomenal job at cutting through the sun. It's the best we have seen, and we spent a lot of time looking at other products on the market."

The large-screen video display brought an extra touch of interactivity to the fairway and was used for live video, sponsor advertisements and scores and standings at the three PGA events.
"These three events where nothing short of a success, the panels from Daktronics loaded in easily, probably in half the time it normally takes us," said Murray. "The color-depth, viewing angles and the sun-cutting ability of this product are sure to make it the market leader for years to come."

The Daktronics PST-12HD weighs only 50.40 kg., or 111 lbs., per square meter, making them well suited for a quick setup, teardown and transport. The product features 7,500 nits of adjustable brightness, color calibration for cross-rental and a new pixel layout that allows for a high-quality image from a variety of viewing angles.
For more information, please visit www.daktronics.com.
Leave a Comment: