GoVision, Daktronics Video Displays Outside Dallas Cowboys Stadium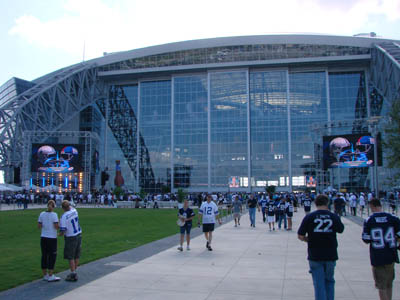 ARLINGTON, TX — The huge video display hanging in the center of the new Dallas Cowboys Stadium isn't the only video element fans have been encountering lately. The football team's management also opted to install eight Daktronics portable modular LED displays on their new stadium's outdoor plaza.
"Our plazas provide almost eight acres of landscaped outdoor space for fans to gather before, during and after the game," said Cowboys owner Jerry Jones. "The addition of the Daktronics video boards provides engaging entertainment for our fans, enhancing everyone's game-day experience. This connects everyone to live action from our pregame shows, the game itself and all the way through to our postgame interviews."
The portable displays, comprised of Daktronics PST-12HD video panels, bring fans live HD broadcasts of each game from Sony HD production equipment. The displays also show crowd prompts, live scores, standings updates and a variety of other promotional content during pregame, in-game and postgame activities.
"The Cowboys have a tradition of providing one of the best game-day experiences in football," said Myron Linde, Daktronics mobile and modular sales manager. "We are pleased to be working with the Cowboys, Sony and GoVision to help usher in an exciting new chapter in that tradition."
As a fully portable video solution, the displays give the Dallas Cowboys the flexibility to quickly disassemble the displays at the end of the season to partner with GoVision, a Texas-based audiovisual rental company, which will use the displays for a variety of off-season events.
"When you combine the biggest name in football with the biggest rental and staging company in Texas, it's always a win-win situation," said Chris Curtis, President of GoVision. "The flexibility of these panels will allow us to showcase the Cowboys displays at PGA tournaments, music festivals and a variety of big events this offseason."
The new displays made their NFL debut at the Cowboy's home opener on Sept. 20 against the New York Giants.
For more information, please visit www.jumbo.tv.
Leave a Comment: