GoVision Gears Up with Daktronics LED Panels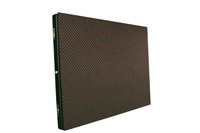 KELLER, TX — GoVision, a provider of large-scale LED video walls and mobile units, has added PST-12HD modular LED panels from Brookings, S.D.-based Daktronics Inc. to their rental inventory. "Daktronics PST-12HD panels were an easy choice, as we believe Daktronics provides a reliable, high-quality product," said Chris Curtis, GoVision president. "It also matched our needs for upcoming events for mobile staging, golf and other venues, as it provides a lightweight panel, wide viewing angles and versatility."
"The PST series continues to gain momentum in the rental and staging industry," said Myron Linde, Daktronics mobile and modular sales manager. "It's road-ready, flexible and is receiving positive reviews from our existing clientele."
The addition of the panels expanded GoVision's rental offerings, which already included the largest high definition mobile LED display in North America. That mobile unit, called GoBigger, uses a Daktronics HD-16 LED display.
Daktronics said the PST-12HD is relatively low in weight, making it a good fit with concert touring, corporate events, award shows, festivals and sporting events by reducing the time and complexity of load-in and load-out, cabling complexity and crating and shipping expenses.
The PST-12HD also features 7,500 nits of intensity, color calibration for cross-rental, a new pixel layout for greater contrast, a wide array of viewing angles and 19-bit image processing for better image quality.
"We developed the PST-12HD to provide touring companies a middle-range pixel pitch that is light and thin," said Jay deBlonk, Daktronics product manager. "We feel there is an opportunity to help companies like GoVision lower their operating cost by reducing fuel expenses and the number of trucks and operators required, without compromising display size or service."
Daktronics added that the PST panels use a bidirectional signal to provides redundancy at the panel level, that they can use industry standard power and signal interconnects to reduce display downtime, and that they are serviceable from the front as well as the back.
In addition to the PST-12HD, other PST models available from Daktronics include the outdoor PST-23 and PST-13, the indoor PST-10i and the SMD LED indoor/outdoor PST-10.
For more information, please visit www.daktronics.com and www.jumbo.tv.
Leave a Comment: