Harkness Screens Helps Space Tourists on a Budget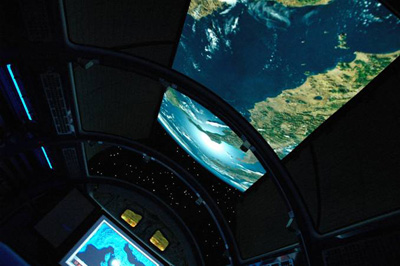 CAPE CANAVERAL, FL — Okay, maybe it only goes so far in simulating the G-forces and weightlessness. But taking a virtual journey into space via the new Shuttle Launch Experience doesn't set visitors back for anything more than what they already paid to get inside Kennedy Space Center — $38 per adult, $28 per child. Compare that to the going rate for space tourists booking a trip aboard a Soyuz spacecraft to visit the International Space Center — $20 to $28 million — and the Shuttle Launch Experience starts looking like a bargain. Come to think of it, the entire 44,000-square-foot Shuttle Launch Experience attraction, built for a price tag of $60 million, cost less than three tickets into non-virtual space.
A 20-foot by 38-foot curved rear projection screen from Harkness Screens helps with the suspension of disbelief. After riders are strapped into their seats, the shuttle simulator "lifts off," taking its "crew" on a four-minute sensory overload ride into space, culminating with a 63-degree tiltback that abruptly ceases.
When passengers arrive in "orbit," the shuttle's cargo bay doors open and passengers are tilted slightly forward to show a view of Earth comparable to that seen by high-flying space tourists.
Emil Poggi, chief operating officer of Poggi Designs Inc., a design engineering company that specializes in movie theaters, post production facilities and theme parks aimed at show elements, projection sound and control systems was approached by Technomedia Solutions LLC, the systems integrator for the attraction to work on the project.
Technomedia Solutions "reached out to us because this was a fairly involved design project and something that we have years of experience in designing," said Poggi.
"I have been using Harkness Screens for the past 10 years in the designs of rides, attractions and movie theaters," Poggi added. "The quality of its screens and frames, creative designs, attention to detail, and customer service made it the obvious choice for this special project."
The rear projection screen has a custom frame about four feet larger, and it's installed and hung at a 75-degree angle, 60 feet above the ground, with a mock up of a space shuttle underneath it.
Harkness Screens came up with the idea of a window shade at the high end of the screen. This involved designing a frame in which the screen could be winched up and dropped in like a window shade so it could be pulled down with drag on it and then laced in place.
The lower end of the screen frame and screen was radiused (curved) to represent the horizon line of the earth and corresponds with the radius of the earth as seen from the shuttle when it is 100 miles above earth.
"Harkness Screens was the only company that was able to provide us with everything we needed for the project — all at one shop," said Poggi. "They were able to design and engineer the screen and frame and also have it inspected, seismically certified and approved. Harkness Screens did a fabulous job."
To accommodate the large volume of visitors passing through the Shuttle Launch Experience, three simulators were made, requiring Harkness Screens to create the same custom screen and frame multiple times.
"Harkness' screens have provided for incredible images that continue to captivate passengers," Poggi said. "All of the NASA astronauts that have taken a ride in the simulator swear by it and claim it is as close to being in the real shuttle as anyone can get."
For more information, please visit www.harkness-screens.com.
Leave a Comment: