Hermes Music and Clay Paky Mark Partnership with Industry Event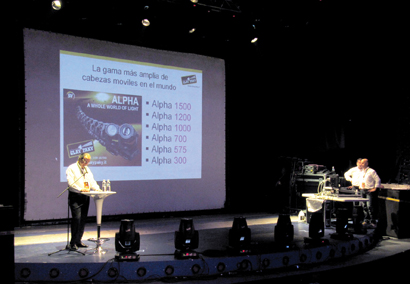 MEXICO CITY – Clay Paky and Hermes Music staged a recent event marking their new partnership at the Aldama Theatre. About 200 industry professionals attended, including dealers, lighting designers and rental company representatives. The event served as a face-to-face meeting opportunity and also a chance for visitors to see in-depth demos of Clay Paky gear. Pio Nahum, Clay Paky sales and marketing manager, was on hand, as was Frances Romagnoli, Clay Paky sales manager for North and South America.
"Hermes Music is very well respected and will make Clay Paky highly visible on the Mexican market, and in all Latin American countries in general, where shows are an important part of the strong musical-cultural background," Romagnoli said.
"Our agreement will turn into a big sales opportunity for both companies," Romagnoli added, thanking Hermes Music CEO Alberto Kreimerman, vice-president Greg Morrison and General Manager Juan Cordoba Perches for supporting the partnership idea "from the start."
Romagnoli also thanked Bruno Santaguida from Luzmila and Carlos Gil from Dinamica Cosmo Color for their support. Clay Paky also recently appointed Jorge Aguirre to serve as its regional representative for continental Central America as part of the partnership agreement.
Giovanni Zucchinali, Clay Paky sales support engineer, demonstrated Clay Paky's Alpha 1500 and Alpha 700 lines. The event ended with a live performance by local band Elefantes.
For more information, please visit http://www.youtube.com/watch?v=O2u4tBk37ks, www.claypaky.it and www.hermes-music.com.mx.
Leave a Comment: