Impression LED Moving Head Now ETL-Approved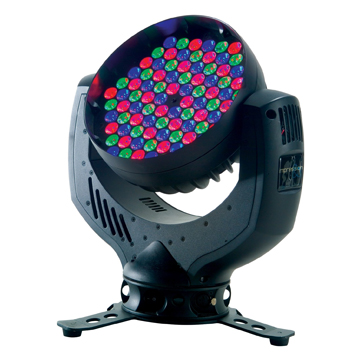 LOS ANGELES — The Impression LED moving head has been ETL approved, according to Elation Professional. The cETLus certification for the U.S. and Canada means the fixture complies with UL standards and can therefore be specified for permanent installations and other uses where ETL approval is required. "We are extremely pleased that the Impression has been awarded the cETLus seal of approval, which is granted only to products that pass the strictest safety and quality inspections," said Eric Loader, director of sales for Elation Professional.
"This is excellent news for our customers, too. The Impression has distinguished itself as a one-of-a-kind lighting product that takes LED color washes into the next generation, and now that it has received this official accreditation, more designers will be able to specify it in their projects and installations."

The award-winning Impression is powered by 90 Luxeon K2 LEDs with an output comparable to a 575-watt discharge fixture, yet consume only half the electricity. It is available in two versions, both of which received cETLus approval: the Impression RGB, which features additive RGB color mixing with 30 red, 30 green and 30 blue LEDs, and the Impression W/A, an all-white fixture with 60 cold white and 30 amber LEDs for variable color temperature control from 3,200k to 6,000k.
Elation Professional has also made other customized versions of the Impression with different LED layouts — ½ Warm White and Cool White or 1/3 Cool White and 2/3 Warm White for television and key lighting applications.

With an energy-efficient 60 lumens pet watt, the Impression also features 16-bit dimming. The Luxeon K2 LEDs undergo a rigorous binning process for color consistency and performance.
For more information, please visit www.elationlighting.com.
Leave a Comment: