In Memoriam: Harry Donovan, 1943-2009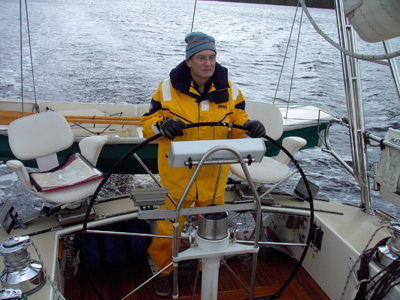 Harry Donovan, one of the world's foremost rigging experts and author of Entertainment Rigging, died Sept. 23 after an ongoing battle with cancer. Donovan, 66, was both an engineer and one of the entertainment industry's most experienced and respected riggers, a unique combination. He devoted his career to studying the art and science of rigging.
Donovan's work in this field began during the early years of arena rigging when he pioneered the development of modern techniques. He spent 22 years on the road perfecting his craft, rigging more than 4,000 Rock 'n Roll shows and 200,000 points without a single failure.
Donovan worked on the biggest tours with the most difficult and technical rigging, searching for bigger challenges. He toured with Paula Abdul, Aerosmith, Black Sabbath, David Bowie, Jimmy Buffett, Johnny Cash, the Eagles, Emerson, Lake and Palmer, Larry Graham in Grand Central Station, George Harrison, Don Henley, Rick James, Elton John, Tom Jones, Judas Priest, KISS, Bella Lewitsky Dance Company, Barry Manilow, Boz Scaggs, REO Speedwagon, Bruce Springsteen, Rod Stewart, Gino Vanelli, the Who and Robert Wilson.
Donovan rigged almost every kind of venue, including theatres of all types, arenas, coliseums, auditoriums, convention centers, civic centers, hotels, high schools, colleges and universities, soundstages, amphitheatres, airplane hangars and outdoor venues, warehouses, gymnasiums, theme parks, hotels, armories, train stations, art galleries, museums, swimming pools and stadiums.
He also worked in many capacities in the entertainment industry — as a rigger, stagehand, master electrician, lighting designer, stage manager, production manager, design engineer for equipment manufacturers, producer, consultant, contractor, instructor and company owner. He worked on many types of shows: legitimate theatre, Broadway, musicals, opera, circus, ice, rock 'n roll, industrials, movies, corporate, conventions, dance and ballet, educational, athletic events, religious, festivals, country-western, etc. And he worked with many types of groups, including AA, Amway, Antioch College, CCI, Century Strand Lighting, the Goodwill games, Bill Graham presents, Billy Graham, IATSE Local 15 (Seattle), IATSE Local16 (San Francisco), Kingdome, Kleigl Brothers, McCarter Theatre, San Francisco Opera, Microsoft, Seattle Opera, Stage Rigging Inc., TFA, TPN, Tally Management and Winterland.
Since 1988, Donovan was president of Donavon Rigging Inc. His company did rigging for shows and events, contracting of rigging equipment and services, design and consulting, expert witness work, fall protection design/build, training and show production.
Donovan's other company, Rigging Seminars, provided training for entertainment industry rigging. Donovan was a world leader in arena rigging instruction, combining vast practical experience with his engineering background to create highly successful seminars for riggers, technical directors, architects, designers, production personnel, stagehands, students and venue managers. Thousands of people learned rigging at these seminars.
Donovan was a longtime member of the IATSE, the USITT and ESTA. He was on the ESTA rigging certification committee, which established requirements for rigging certification.
Donovan lived in Seattle with his wife, Patty and their boat coast home, whose rigging he was constantly changing. During the summers you could find them anywhere from Puget Sound to the Queen Charlotte Islands with Patty and friends, looking for good winds. Winters were spent tweaking the sails and rigging for the next summer.
Along with his wife, Patty, Donovan is survived by his mother, Constance Donovan, two brothers, Tom Donovan and Robert Donovan, and two sisters, Gail Donovan Kesich and Kaja Donovan.
Leave a Comment: