InfoComm 2009 Show Report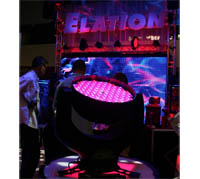 ORLANDO — By the time the show floor opened at 9 a.m. on Wed., June 17, dozens of seminars and workshops had already taken place and hundreds of exhibitors spent countless hours setting up in the Orlando Convention Center, including roughly 50 exhibitors from the lighting industry. The show, which started as a video show, has been growing the lighting side as evidenced by the increasing number of these exhibitors over the last couple of years. This year the biggest of the lighting company booths belonged to Elation and the next biggest was probably that of Martin, who is exhibiting for the first time this year.
The show floor, although not exceedingly crowded, seemed to be very active with plenty of visitors cruising the aisles.
After the first day it wasn't readily apparent whether there are any new groundbreaking products, but there are lots of new product launches that were sneak-previewed at LDI 2008 or Pro Light+Sound in Frankfurt.
Among the newest offerings here are the MA Lighting GrandMA 2, Martin's MAC 301 and MAC 401, a new multi-screen management plug-in for the Hippotizer called UberPan, and the new Element console from ETC.
For more news and photos from PLSN editor Richard Cadena, visit ProLightingSpace.com.
Leave a Comment: