iRigging App Gets First Update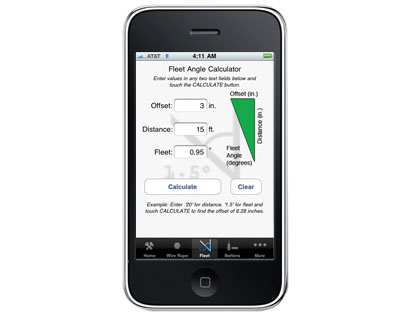 SYRACUSE, NY-J. R. Clancy has updated its iRigging app-the Apple iPhone/iPod Touch app for rigging installers and operators. Users can now download a free app update. The iRigging app delivers instant information about wire rope, batten loading, arbors, stage ropes, motors, fabrics, fleet angles, and more. Derived from J. R. Clancy's slide rule, the app provides all the data required for proper installation and operation of manual and motorized rigging.
The update includes the following new information:
Calculations of recommended working loads for additional J. R. Clancy series head blocks and loft blocks
Updated capacities for blocks
A new calculator page for arbors and counterweights
A feature that allows users to sign up for Clancy's monthly Rigging Report, an email newsletter for rigging users
In addition, the update combines iRigging's American measurement and metric versions in one application.
To download the updated app for the first time, touch App Store on the iPhone, and search for iRigging. To update the app that's already on an iPhone, use the App Store button in the top-level menu.
For more information, visit www.jrclancy.com
Leave a Comment: