JCALPRO Provides Production and Rigging for "Wheel of Fortune"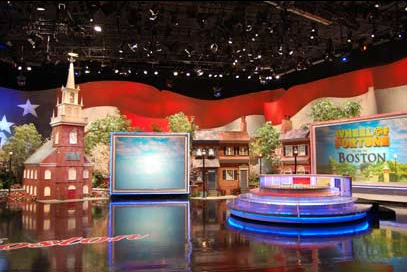 BOSTON — JCALPRO provided all of the setup and rigging labor for the production aspects of Wheel of Fortune's 15 Boston themed episodes, which aired in November on WBZ-TV. JCALPRO also provided rigging support equipment, such as aerial lifts and hardware, and had operators covering various positions during taping, including projection, lighting board control, audio and props. The shows were taped at the Boston Convention & Exhibition Center (BCEC), where JCALPRO serves as the exclusive rigging company.
"We were really excited to work alongside the Wheel of Fortune crew on setting this fun event in Boston," said Jimmy Callanan, president and CEO, JCALPRO. "Wheel of Fortune also showed great support of local union labor by contracting us to provide all of their setup and ancillary production support."
"No matter how much time is put into pre-production planning by me and my team, if the local crews hired to perform the work are not both qualified and hard working, all our efforts are wasted," said Bob Sofia, coordinating producer and technical supervisor. "JCALPRO's crews were among the best we have had all across the country."
For more information, please visit www.jcalpro.com.
Leave a Comment: