Jonas Brothers Tour World with MAC III Profile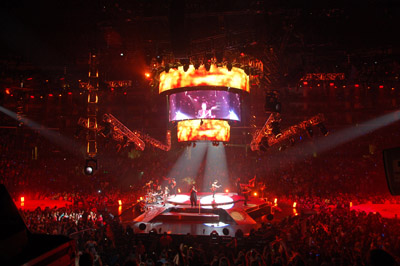 UNCASVILLE, CT — The Jonas Brothers world tour in support of their latest album, Lines, Vines and Trying Times, is using a lighting design by John LaBriola, production and lighting designer that incorporates Martin's 1500-watt MAC III Profile to light the multiple-stage set. "I had heard great things about the MAC III Profile's brightness and optics prior to designing the show," LaBriola said. "With this show requiring a trim of 55 feet, it seemed like the perfect opportunity and the perfect light for the job."
The 144 foot-long, in-the-round set was created by Tait Towers and features three stages filled with band elevators, lifts, a 360° rotating arm and more. Some 56 MAC III Profiles serve as the main spot fixture in the show and LaBriola has them placed "everywhere" in the rig and on the set.
"The brightness is fantastic and goes without saying, and the gobo selection is phenomenal. The zoom is also truly amazing. I have cues that incorporate a full zoom on a gobo in a color that doesn't lose any brightness spanning the entire length of the arena," he said.
"The MAC IIIs have been amazing. This is quite a large show with a pretty brutal schedule. They've taken several beatings and have been sprayed/drenched by several fluids. They continue to perform as well as the first day of production rehearsals."
Martin Atomic 3000s with Atomic Colors scrollers are also used in LaBriola's design. "Their brightness and parameter control is second to none," he said. "They enable the ability to use a strobe light for everything for accents to dramatic fade/timed cues."
LaBriola also credited Martin US for the support he received on this summer's kick off North American leg.
"Brad Haynes provided extensive insight and support for the fixture as well as allowing input for future firmware changes. I can't thank him enough."
BML-Blackbird provided lighting supply for the U.S. leg. Rob Brenner was tour director is Rob Brenner.
The tour moves to several Latin American venues before resuming with a string of European dates in November.
For more information, please visit www.martin.com.
Leave a Comment: