J.R. Clancy Provides Hoists for Indiana Music Hall's Adjustable Glass Ceiling Panels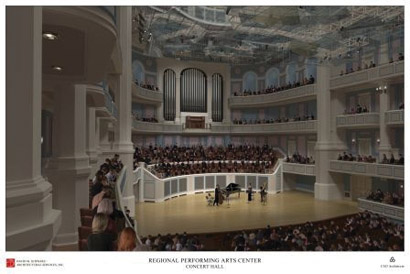 CARMEL, IN – The Center for the Performing Arts, a three-venue performing arts center coming to central Indiana this fall, will include The Palladium, a 1,600-seat space with four adjustable 23,000-lb. glass ceiling panels rigged by J. R. Clancy to allow the acoustics to be tuned for different kinds of performances, which will range from symphonies to country music to R&B and jazz. Weighing 92,000 lbs. in all, the ceiling panels can be raised and lowered via high-capacity hoists. Because the heavy loads are suspended over the audience, in addition to standard braking systems, each hoist also has dual air brakes acting upon a 30-inch brake disk. Due to space constraints every hoist was also designed to be disassembled, craned into the building and reassembled.
The architect for the project is David M. Schwarz Architects, with support from Artec Consultants. The hoists were designed, manufactured and installed by J.R. Clancy, with Bridget Cox serving as project manager.
For more information, please visit www.jrclancy.com.
Leave a Comment: