Kentucky Church Using Broadcast Pix for Sunday Broadcasts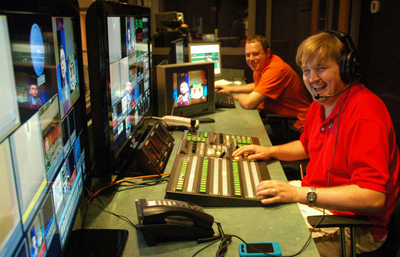 LEXINGTON, KY — Immanuel Baptist Church broadcasts its Sunday service to thousands of households live on WLEX-TV, the local NBC affiliate. In June, the church installed a Broadcast Pix Slate 5000 integrated production system to ensure a polished look. As director of I-Tech ministries at the church, David Probus oversees broadcast, audio, video and lighting for the Immanuel campus and serves as executive producer of the live television broadcast. He said the church purchased the Slate 5000 in a bit of an emergency situation. One Sunday, the old analog switcher they had been using for the past 15 years locked up on them — while they were on the air.

Probus had been creating a very expensive proposal to upgrade the facility's video equipment in phases. "It was a messy situation and it sent my proposal ideas into hyperdrive," he recalled. "We were looking at buying a separate CG system, switcher, clip player, and playback system. Then we happened upon the Broadcast Pix. It had all of that together. It was perfect."

The reliability of the Slate has been a welcome change for Probus, who took a "let's pray it comes on today" approach with the old system. "It's been great to be able to walk in on a Sunday morning and know that everything is going to work," he said. "I can make any changes I want during our broadcast almost immediately."

Probus is also enjoying the built-in clip player, which provides easy access to the broadcast's open and close. "We used to run those through a DVD player," he said. "It was a constant battle of 'Is the DVD cued up?' With the clip store on the Slate 5000, it's at my fingertips. We use still store for sermon graphics and general graphics for transition. We even use the logo system to put our logo in the bottom right corner."

In-house video is kept separate from the broadcast during regular services. However, if the church has an event that Probus wants to run from up in the broadcast booth, he has an SDI feed from the Slate 5000 to the projectors. "I can just flip a switch and we're off and running from the Broadcast Pix system for the in-house," he said.

Roscor, a Broadcast Pix dealer based in Mount Prospect, Ill., installed the system. "We've been running full force on this system for several weeks now," Probus said. "I haven't found anything I don't like about the Slate 5000. I'm completely sold."

For more information, please visit www.broadcastpix.com.
Leave a Comment: