Latin Grammy Awards Lit by Carlos Colina, Atomic Lighting and Philips Vari-Lite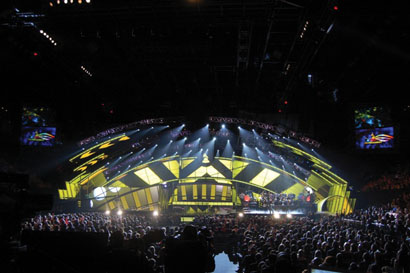 LAS VEGAS – LD Carlos Colina lit the 11th Annual Latin Grammy Awards using 124 Vari*Lite luminaires provided by Atomic Lighting. The event, presented by the Latin Recording Academy, was broadcast live from the Mandalay Bay Events Center Nov. 11. "This was my fourth year as the lighting designer for the production and, while each year we always try to do something a little different, this year presented a series of challenges," Colina said. "When I saw how wide and video-heavy the set would be, I knew competing with and complementing the video, while being able to hit all the areas needed, would be one of the main challenges. But then since the show would also be airing live worldwide in both a high-definition TV broadcast and a streaming web video, I would also need lots of wide beams with punch that I could count on when the cameras started rolling."
After receiving the set design from Jorge Dominquez, Colina placed Renderwork cameras into VectorWorks to review all the angles that they would be shooting. From this 3D mock-up, he was able to identify all the lighting locations needed, which led him to hang three main trusses to mimic the wide, open set.
"This year, the set consisted of walls that were framed with LP screen material on all sides with a rounded back which shaped it into an oval. Our idea was to continue the set with the lighting, so we used three rounded main trusses over the top of the set to complete the oval shape and gives it a nice complementary dynamic look that worked on TV."
Since trussing would extend the width of the stage to approximately 120 feet, Colina needed to precisely hit all the open areas, especially those in the middle of the set where the majority of the performances and award-winner announcements would take place, with an intensity that could compete with the video elements. Colina turned to Atomic Lighting for the 58 VL3000 Spot, 24 VL3500 Spot, and 42 VL500D 120V Wash luminaires in his design.
"I have worked with Atomic before and they are consistently solid. I know they are invested in the project and always have the gear maintained extremely well. This event was no different with a very hands-on approach throughout the entire project."
Colina focused on five primary lighting necessities: lighting for the medium shots and close-ups, lighting the band, back lighting, key lighting, and then lighting for TV and video.
"I like to use Vari*Lite because of the brightness and white that we get out of them with the color temperature we use for TV," Colina said. "Our programmer, Felix Peralta, relied heavily on the VL3500 Spots because of their extraordinary consistency with the shutters as well as their amazing zoom capabilities and overall lumen output," he added. "We then used the VL3000 Spot fixtures for their fantastic output and solid beams to give both the camera and those at the show a bit of eye candy. And I chose the VL500D 120V Wash fixtures because of their incredible colors which provide a big aperture that looks fantastic on camera.
"Having worked with Atomic before, I know they have great gear and the Vari*Lite fixtures just don't have the same issues that others might," Colina concluded. "With a live show that is broadcast to an international audience, you need the lighting to be consistent and work as designed. When using Vari*Lite luminaires you don't have to worry, and you don't need a safety net."
Crew
Lighting Designer – Carlos Colina
Lighting Director – John Daniels
Automated Programmer – Ken Hudson
Automated Programmer – Felix Peralta
Video Content Programmer – Laura Franks
Media Server Tech – Angel Banchs
Head Gaffer – Brett Puwalski
Head Automated / Head Gaffer – Alex Flores
Automated Tech – McClain Moss
Automated Tech – David George
For more information, please contact www.vari-lite.com.
Leave a Comment: