LD for The Prodigy Adds i-Pix, Video to Visual Mix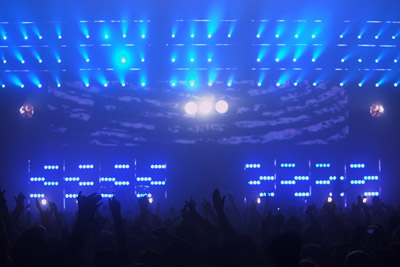 LONDON — The Prodigy's Invaders Must Die world tour, the band's first tour where they've been persuaded to use video, also includes 32 i-Pix BB4 LED fixtures in the visual mix dreamed up by lighting and visuals designer Andy Hurst. The band, back on the road with their first full studio album in five years, already had some ideas about what they wanted, and Hurst pitched in with more than a few of his own.
Along with video, a selection of LED lighting products feature in his design, where the BB4s play a key role. They are mounted in eight custom-built floor frames, distributed among Atomic strobes in the same frames, which form the lower part of Hurst's multi-tiered design.
The lightshow is precisely timed, adding visual structure to moments that veer from theatrical to trippy as rapper/vocalist Maxim Reality and dancer/vocalist Keith Flint take over the stage.
Hurst chose BB4s for their brightness and paradoxical soft quality of the light output. "A lot of LED sources are harsh and intrusive… And I wanted something refined that was nice and easy to look at," said Hurst, who uses the BB4s to blast right into the audience at eye level.
The homogenization of the BB light source, moreover, effectively reduces LED color shadowing, and Hurst also likes the fixtures' color mixing and dimming properties.
He test-drove the original prototype BB4s (then called BB16s) at the Isle of Wight Festival in 2007, for which he was production LD, and expects to be using the fixtures for his festival specials package later this year. This will consist of six of the frames, which can be wheeled on and offstage and set up relatively quickly.
Along with the frames, the rig also features LowPro "satellite" trusses with double mounting brackets, over 100 moving lights, VersaTubes, other fixtures and a 30-way Kinesys automation system.
All lighting equipment for the UK tour is being supplied by PRG. XL Video is providing the LC10 LED video screen, with Richard Shipman operating live visuals via an Arkaos system and Matt Askem cutting cameras.
For more information, please visit www.i-pix.uk.com.
Leave a Comment: