LED Displays Help All Points West Rock the East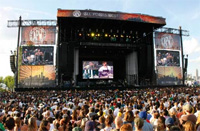 JERSEY CITY, NJ — Rumors about a "Coachella East" festival staged in 2008 might have seemed proved false, but only nominally so. The festival, held for three days in August at Liberty State Park, just behind the Statue of Liberty, was called All Points West. The event, organized by Coachella host Goldenvoice and AEG Live, included Radiohead, Jack Johnson and about 40 other well-known indie bands. The festival's name refers to an old Jersey rail yard, and the three stages were train names from the golden age of rail travel: Blue Comet, Bullet and Queen of the Valley.
Video images from Upstage Video appeared on a video wall made from 48 Daktronics PST-12HD panels, which lit up the sets of Go! Team, Animal Collective, Cat Power and others.
"It was a real pleasure being a part of such an amazing celebration of art and music," said Peter Dunkle, Daktronics sales. "Working with Upstage Video to design and implement the new displays for the festival was a wonderful experience, and we were pleased with how smoothly everything went."
Measuring approximately 18 feet high by 32 feet wide, the modular LED display was used for the festival's main stage, where tens of thousands of fans flocked to see more than 40 live acts perform. The visuals included a mix of live concert footage, visual effects and graphics.
"We knew this event was going to be huge, so we wanted an elite product that could provide high-quality video along with quick setup and teardown," said Doug Murray of Upstage Video. "The Daktronics PST-12HD panels provided us with both of these and the event was a huge success."
A truck-mounted Daktronics mobile display, measuring 9 feet high by 16 feet wide, also made an appearance at the event, keeping fans at the festival in the loop with band schedules, audience messaging, festival maps and weather reports while they visited a variety of unique food vendors and art exhibitions.
"The mobile display was a great addition to our video production lineup," said Murray. "The display kept everyone informed when they were away from the main stage."
Other gear onstage included two Toshiba 15-foot-by-23-foot 15mm video displays on stage left and right, five Sony DX50 triax camera chains and three NewTek VT5 video switchers. There were also two other Barco B10 mobile LED video screens, each measuring 9 feet by 12 feet in use.
Despite an unexpected rainstorm on the last day of the event, the festival was deemed a success, attracting one of the largest crowds ever to congregate at Liberty State Park during its 32-year history.
For more information, please visit www.daktronics.com.
Leave a Comment: