LEDs Part of Moving Set for Janet Jackson Tour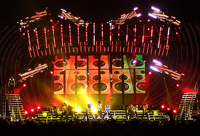 UNCASVILLE, CT — A dynamic set, moving light rig and LED screen visuals combine to punch up three decades of hits for Janet Jackson's Rock Witchu tour. The light rig, created by LD Vince Foster, has a total of 150 PixelLine 1044s.
One of the major moving set elements is a bridge, which is lit with an array of the PixelLine units. Together, they serve as a key focal point for singing and dancing.
"I've been a great fan of PixelLines since I started using them back in 2003 on a Massive Attack tour," said Foster. "They are consistently a very reliable and robust fixture, and I don't think I have designed a show without them since then."
With all of the elements of the show in motion — bridge, truss, stage and screens — the tour serves up a steady stream of visual energy to accompany the 35 songs performed on tour, which add up to a concert experience of nearly three hours in length.
"Janet Jackson contacted me after seeing one of my Kylie shows on DVD," Foster said. "I worked with her creative director who had a story and a script for the show, and after several meetings I designed both the lights and set."
The PixelLines are supplied by Upstaging, Inc. A Whole Hog Full Boar console and Catalyst media server are used for programming and control.
For more information, please visit www.pixelrange.com.
Leave a Comment: