LSC Clarity Used for Latvian Festival of Light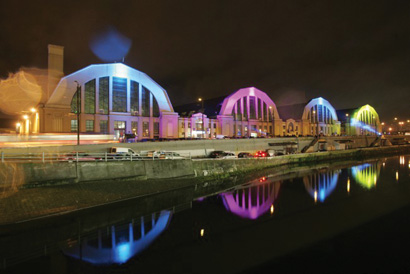 RIGA, Latvia – The recent Latvian national lighting festival, Staro Riga 2010, transformed the capital city, Riga, into a display of light art for the third consecutive year. Held over a four-day span concurrent with Latvia's Independence Day celebrations, it featured lighting effects created by professional lighting designers, artists and the general public.
Prior to the event, festival organizers and show designer Visvaldis Asaris invited SIA "Eiropas Skana" to illuminate Riga's central marketplace pavilions.
Lighting designer Martin Porter took part in that project, using LSC Clarity to control the show lighting, which ran for 15 hours each day. Porter used an Acer notebook on site and a wireless connection to access the programming and control the playbacks.
"Clarity performed perfectly throughout the event," Porter said. "It is extremely stable, easy to program and very powerful," he added. "This is now my console of choice for the future."
For more information, please visit www.lsclighting.com and www.staro.lv/en/
Leave a Comment: