Martin Gear Helps Ring In the New Year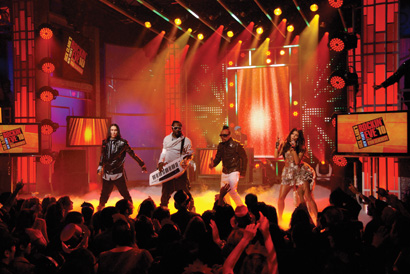 NEW YORK – Lighting Designer Lee Rose of Design Partners used some of the first Martin MAC 401 Dual lighting fixtures available in the U.S. on "Dick Clark's New Year's Rockin Eve," and, airing the week before, another ABC TV holiday special, "Disney Park's Christmas Day Parade." For the last 25 years, Rose has lit every annual "New Year's Rockin Eve" (NYRE) show, and Martin's LED fixture could be seen on each side of two performance stages.
"When I had the fixture in our light lab for pre-programming on the Disney Parks Christmas Parade, I got a chance to explore its capabilities, I was quite impressed by it," Rose said. "I wanted something for the NYRE stage that looked different, an LED fixture that didn't show discreet LEDs per color."
The production designer for the event, Bruce Ryan, and Rose addressed what changes to make from the previous year's show and agreed on the need for something special for the important camera cross shots – looks from hand held cameras in the pit stage left and right.
"I thought it would be interesting for that area to have animation and also something other than a discreet LED fixture," Rose said. "The 401 absolutely sold itself. I really like the unicolor look out of each individual lens."
Rose placed a vertical row of five MAC 401 Duals on the downstage sides of each stage and used them a great deal for every major act.
The MAC 401 Dual is an LED moving head washlight with an double-sided design and color mixing system that blends colors at the source. Other features include a speedy zoom, broad beam look and individual LED segment control.
"Initially I wasn't sure about the individual LED quadrant control," said Rose, "but doing the bow tie and half-and-half effects really gave the fixture a lot more depth and provided more production value than just a straight automated LED fixture. I also liked the fact that you can easily go from a wash light to a spot fixture with a tight beam."
Programmer Paul Lennon created bow tie chases, quad chases and other effects and also used some of the 401's built-in effects. Although Rose only used one side of the fixture, he sees potential in its dual capability and hopes to incorporate it in a future show.
The NYRE lighting rig housed other automated lights as well, including Martin MAC 2000 Washes. Shot at the Aria Resort & Casino ballroom at CityCenter in Las Vegas, musical guests included The Black Eyed Peas, Colbie Caillat, Robin Thicke, Keri Hilson, Selena Gomez, Justin Bieber and others.
On "Disney Parks Christmas Day Parade," broadcast from Disney parks in Anaheim and Orlando, Rose used MAC 401 Duals throughout all acts including the Jonas Brothers, Celine Dion, Stevie Wonder and Demi Lovato.
For more information please visit www.martin.com.
Leave a Comment: